A man has been arrested after landing a gyrocopter on the west front lawn of the US Capitol in Washington DC.
Capitol Police confirmed that streets have been closed nearby as a precaution and the Capitol Visitor Centre placed on temporary lockdown as the aircraft is investigated.
USCP officer Shennell Antrobus told AFP: "The US Capitol Police continues to investigate, with one person detained."
The man who illegally landed his aircraft at the US Capitol on 15 April, triggering street closures around the building and prompting a police investigation, has been identified by the Tampa Bay Times as 61-year-old Florida mailman Doug Hughes.
Hughes owns the gyrocopter which he keeps in a hanger in Wauchula, Florida. The mini helicopter was painted in with the official United States Post Office logo.
The pilot allegedly wanted to stage a protest calling for campaign finance reform declaring a "voter's rebellion" against corruption and planned to drop 535 letters at the Capitol building.
An excerpt from the letter read: "I'm demanding reform and declaring a voter's rebellion in a manner consistent with Jefferson's description of rights in the Declaration of Independence...As a member of Congress, you have three options. 1. You may pretend corruption does not exist. 2. You may pretend to oppose corruption while you sabotage reform. 3. You may actively participate in real reform."
The postal worker is reported to have earlier spoken of plans to commit a "daring act of civil disobedience" dubbing his gyrocopter mail delivery plan "Project Kitty Hawk," but he had no intention of causing damage to any buildings or memorials in the Capitol.
A US lawmaker said police were poised to shoot down the pilot, if he flew any closer to Congress. Hughes explained that he was not concerned about being shot out of the sky or harmed as a result of his stunt. He told the Times: "I don't believe that the authorities are going to shoot down a 61-year-old mailman in a flying bicycle. I don't have any defence, okay, but I don't believe that anybody wants to personally take responsibility for the fallout."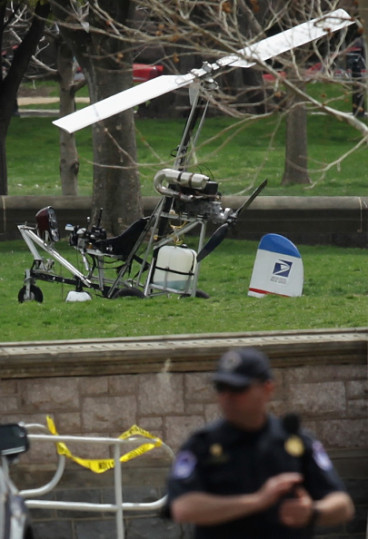 "The point of the flight is to spotlight corruption in DC and more importantly, to present the solution(s) to the institutional graft. There will be apprehension about the threat posed by any aircraft that defies the no-fly zone...An ultra light aircraft poses no major physical threat – it may present a political threat to graft. I hope so. There's no need to worry – I'm just delivering the mail."
Before his flight, Hughes set up a live video feed and a chat room on his website, though both were taken down following his arrest. In a video interview with the Times he admitted that the idea was "crazy."
The Capitol police department have not commented on the incident.
The US Capitol building was put on lockdown just four days earlier on 11 April, after shots were fired outside. Several US media agencies reported that the shooter died as a result of a self-inflicted wound in an apparent suicide.