Teenager Chris Kreis Rides 30-foot Whale Shark [VIDEO]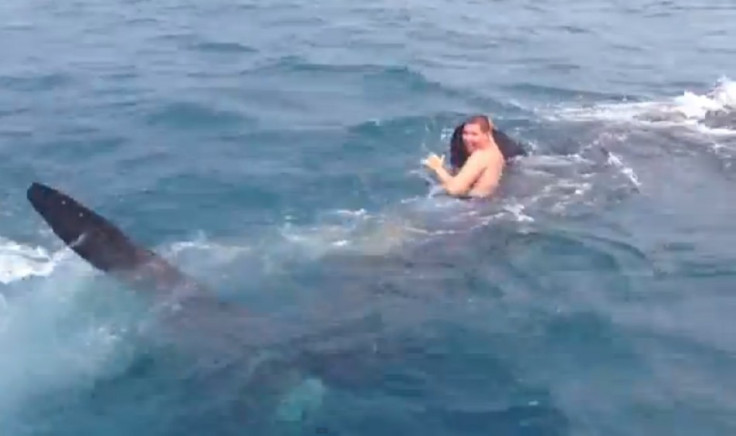 An American teenager has made headlines after a video depicting him diving from a boat in the Gulf of Mexico to ride a 30-foot shark was posted online.
Chris Kreis, 19, was fishing was fishing 30 miles off Florida's Captiva coast when he spotted a large whale shark. Without hesitating, Kreis decided to jump in the water and ride it.
He grabbed the 50,000 pound fish's fin and let the animal drag him for a few seconds before it went down into the waters.
"When I started holding on I felt the whale shark it started moving itself, it felt the drag and it didn't really want me on there so I let go and that's it," Kreis told ABC 7.
"It's massive, it's the size of the boat" the teenager said of the shark.
Meanwhile his friends aboard the boat were filming the close-encounter.
"Oh my gosh" and "awesome!" they are heard saying in the 20-second video that was posted on YouTube.
Whale sharks are thought to be the largest fish in the sea and can reach lengths of more than 40 feet.
Although the name instantaneously recalls Steven Spielberg's movie Jaws, whale sharks are not a threat to humans, as they eat mainly plankton.
Nevertheless riding them is not advisable. "They are so very large they could inflict some harm inadvertently," marine biologist Bruce Neill told ABC 7 .
Moreover, the fish can also suffer from the ride.
"When people spend a lot of time and pressure on a fish it takes away a slime that covers the fish. They need that layer to stay healthy. Losing it potentially has negative health impacts for the fish" Neill said.
© Copyright IBTimes 2023. All rights reserved.