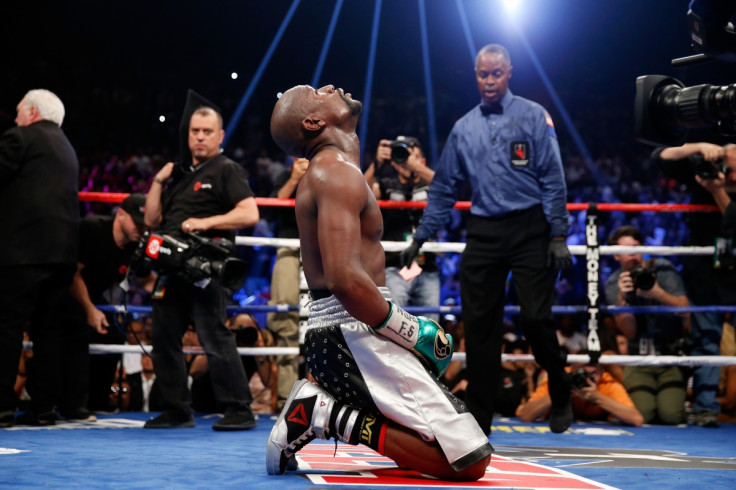 Floyd Mayweather has re-affirmed his plans to retire from boxing following a comfortable victory over Andre Berto in Las Vegas. The five-division world champion extended his unbeaten record to 49-0 thanks to another unanimous decision at the MGM Grand, equalling the mark set by legendary heavyweight Rocky Marciano in 1955, and successfully defending his WBA and WBC welterweight titles.
Mayweather, who beat long-time rival Manny Pacquiao in the so-called 'Fight of the Century' earlier this year and was criticised for his choice of final opponent amid sustained support for the likes of Amir Khan, was partaking in the last fight of his lucrative six-match contract with American TV network Showtime. He produced a trademark performance of speed and precision as the judges returned scorecards of 120-108, 118-110 and 117-111 in the 38-year-old's favour.
Mayweather's final fight
While he maintained before the bout that this would be the final outing of an illustrious career, many remained skeptical and believed the temptation to set a new unbeaten record would prove too alluring. Mayweather, however, insists he is stepping away from the sport while he still has his health intact.
"My career is over," he was quoted as saying by Reuters in his post-fight press conference. "It's official. My 49-0 record is part of boxing. I'm financially secure and I'm in good health. I'm looking forward to finding the next Floyd Mayweather and seeing someone break all these records I set. Records are meant to be broken. I am leaving the sport with all my faculties, I'm still sharp and smart. I've accomplished everything in this sport, there's nothing else to accomplish."
Remarkable career
Although he has frequently courted controversy throughout the years, few will deny Mayweather the status of the most accomplished and successful boxer of his generation. Looking back on his considerable list of achievements, 'Money' appeared blissfully content that he had done what he set out to do.
"I had a game plan from the very beginning. I always knew what I wanted to do – be outspoken, be one of a kind. To be in the sport for 19 years and to be world champion 18 years, I've had a remarkable career.
"If you put them (opponents) in front of me, we see what they can do. It's all about that IQ. I'm 10 steps ahead of any fighter. I take whatever is your best attribute and take that away from you, make you do what you don't want to do."