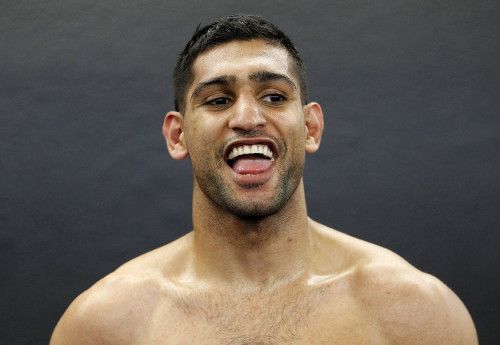 Ever since Amir Khan exploded into Britain's public consciousness with his silver medal win at the Olympics in 2004, his career has been closely scrutinised by the British media.
His undeniable talent coupled with good looks and polite demeanour marked him out for stardom from a young age.
But Khan's Muslim faith and the coincidence that his rise as a prominent boxer coincided with the unfolding War on Terror probably generated an added interest in him that otherwise would not have been the case.
This interest has followed him wherever he goes and has amplified his successes, failures and general behaviour in the court of public opinion.
Some have questioned Khan's record as a fighter and believe him to be arrogant yet if there is one thing even his harshest critics cannot fault him for, it is the ambition Khan has to be the best boxer in the world.
How do you become the best boxer in the world? That's easy, you beat Floyd Mayweather Jr, the undefeated maestro who lives and fights out of Las Vegas.
Mayweather, ever the shrewd business man, has a panache for picking fights against adversaries that earn him a lot of money on primetime television and keep his undefeated record intact.
His bout against Saul 'Canelo' Alvarez in September earned him a record breaking $80 million.
There is a May fight date which Mayweather would like to fill and the gossip that always bounces around the world of boxing has settled on the name of Khan.
Mayweather has even added fuel to the fire as he has said that a contest against Khan interests him due to Khan's presence in America, a solid fan base and two recent victories which he called "impressive".
The Insolvable Riddle
Khan has rightly observed as have others that his hand and foot speed will present Mayweather with problems.
Opponents of Mayweather are usually beaten to the punch by a boxer who is the best defensive fighter of his generation.
However, there was always and still is more to Mayweather than his ability to beat other fighters to the target.
He is a tactician that can see the short-term obstacle in front of him and how it can be removed while maintaining a clear view of the big picture.
In any Mayweather scheme, there is a cautious and deliberate intellect at work which manages to fit the right plan to favourable circumstances.
There are few things that happen to a Mayweather opponent in the run up to and during a bout that Mayweather has not foreseen.
It's this intelligence more than his physical gifts and professionalism that have made Mayweather a champion in five different weight classes, undefeated in 45 fights and a world champion since 1998.
Even if the younger Khan is faster than Mayweather - 37 next month - and can use his jab, combination punching and discipline to frustrate Mayweather in the early rounds, how can his success cannot last?
Khan can may have faster reflexes but he does not have the quickness of thought.
Mayweather's punch selection and footwork in his last two outings against Robert Guerrero and Saul Canelo Alvarez were as close to perfection as can be.
He did not seem to do anything wrong and made two good fighters look ordinary and at times even clumsy.
Mayweather frustrates his opponents by doing enough to establish a lead on the scorecards and then waits for them to make mistakes that he capitalises on by punching that seems laser guided at times.
If Mayweather's boxing was translated into a chess match, the game he would play is that of the cagey grandmaster.
The grandmaster removes one pawn from his opponent to establish the lead, sits back and asks, "What are you going to do now that will even up the score?"
The pressure to catch up puts the psychological pressure on the opponent and allows Mayweather to slip into a comfortable rhythm.
Khan's Vulnerabilities
Khan is blessed with the untrainable gift of great speed but he is not gifted with a great chin even though he has demonstrated he has strong recuperative powers.
He did this in his last fight against the hard hitting Julio Díaz where he was knocked down and boxed his way out of trouble to get a gritty unanimous decision.
This and other occasions have proved that Khan is probably tougher and more durable than he is given credit for but one has to outthink Mayweather to beat him as out fighting him has been tried and failed.
Out boxing Mayweather does not seem possible as no currently active fighter embodies the art of hit without being hit like Mayweather does.
Khan has improved his defence over the years but is vulnerable to left hooks and has been caught by them on a number of occasions.
This is a punch that Mayweather throws rather well along with his greatest weapon, a lead right hand that can be used as a scoring punch and knockout blow.
If the fight does go ahead, it will be interesting to watch but it is hard to see Khan, for all of his gusto and skills coming away with a victory.
It will fun while it lasts and should do well at the box office but the era of Floyd Mayweather has some way to go yet before it ends.