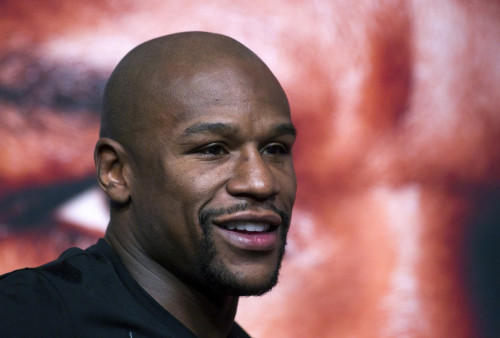 Floyd Mayweather says Manny Pacquiao's recent tax problems make him desperate to secure a super-fight with the unbeaten American in 2014.
The Filipino is currently under investigation for unpaid taxes dating back to the 2008/09 and Mayweather claims the former WBO welterweight champion needs to secure the bout in order to settle the case.
Reports have suggested that Mayweather will announce Pacquiao as his next opponent as part of the remaining fights on his Showtime television deal, however the 36 year old has no plans to clinch a agreement with his great rival.
Speaking in South Africa, Mayweather said: This is what happened. I offered Manny Pacquiao the fight before but we didn't see eye to eye on terms with regard to random blood and urine testing.
"Years later I came back and tried to make the fight happen again. I offered him $40m, he said he wanted 50/50 so we didn't make the fight happen.
"Manny Pacquiao then loses to Timothy Bradley, he loses to [Juan Manuel] Marquez, the guy that I beat. He has tax problems now. Two losses and tax problems later he all of a sudden will do anything to make the fight happen.
"What he's really saying is 'can you help me and solve my tax problems and my debt'. Whereas he's with Bob Arum. I'm under my own which is Mayweather promotions so if I'm keeping 100% of the revenue there is no way I can go split. 30%, 20% not even 10%. Why would I split any of the money."
Pacquiao has already ruled out leaving Arum's Top Rank promotions in order to secure a fight with Mayweather, who is likely to confirm a bout with either Amir Khan or Marcos Maidana on 2 May.
"Floyd Mayweather Jr. never runs out of excuses just to avoid fighting me. If I leave Top Rank, there's no guarantee the fight would push through," Pacquiao told the Inquirer.
"So, why should I leave Top Rank? Just to make Pacquiao-Mayweather fight happen? No way."