Robert Guerrero believes that he has the God-given ability to cause a huge upset when he faces Floyd Mayweather in Las Vegas on May 4.
The 29-year-old has already claimed world titles in three different weight classes and is extremely confident that he has the skills needed to inflict a first ever professional defeat on the pound-for-pound great.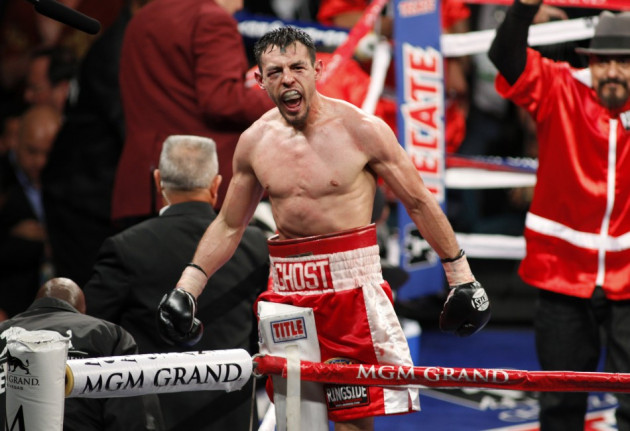 Mayweather remains the heavy favourite but Guerrero has known about the contest for some time and believes he has devised a gameplan that will allow him overcome the 36-year-old.
"I'm very excited to get the opportunity to fight the pound for pound king of boxing," Guerrero said on the Toe 2 Toe boxing podcast. "I've known since after I fought (Andre) Berto, my management team were doing their job and I was well informed that it was going my way to get the fight.
"I'm going to go in there with no respect. I respect him as a fighter but I'll go out there and do my thing, execute my gameplan. I fought Berto on the inside and used and abused him, I kept to the gameplan."
Guerrero does boast an impressive record, 31-1-1, and is coming off the back of one of his most impressive performances against a very tough opponent in Berto. However, Mayweather was equally impressive in his last outing when he convincingly defeated Miguel Cotto over 12 rounds.
In fact Mayweather has shown few signs that his skills are fading but Guerrero believes that age catches up with everyone, and that he has begun to see small weaknesses that can be exploited.
"Whether he admits it or no, nobody wants to admit they are slipping," added Guerrero. "But being a student of the game, watching Floyd from his younger days, he is slipping.
"He's a half step slower with his footwork, but he's a mastermind of the ring and he knows how to make the adjustments. He's very wise in the ring and you've got to take a very wise approach to the fight.
"'I'm going to beat him because I have the God-given ability to do it. I've had the right fights and experiences. I was groomed the right way to be in these championship fights.
"I'm hungry. I want to be the best so you've got to fight the best, and I'm coming out to fight. I can't wait to get in that ring and prove that I'm the best pound-for-pound fighter, and just make it happen."