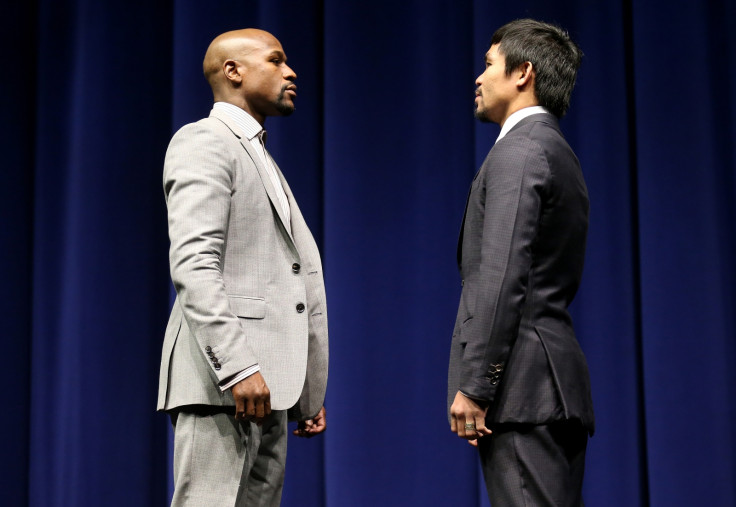 Not long now. Floyd Mayweather Jr and Manny Pacquiao meet at the official weigh-in on 1 May, the last time they will come face-to-face before the opening ring bell.
Where to watch
American television network HBO will once again be providing a live stream of the weigh-in via its YouTube channel. Sky Sports News HQ will also have full coverage, beginning at 11pm BST/6pm (ET).
The bout is available to be purchased in the UK on Sky Sports Box Office on 2 May.
Preview
After a controlled final press conference between the welterweight kings and their respective camps on 29 April, the weigh-in is our last chance to see some fireworks before the big night.
For what is one of the biggest fights in history, it has been a relatively controversy-free week in Las Vegas. Trainers Floyd Mayweather Snr and Freddie Roach have engaged in most of the media sparring but in regard to Mayweather and Pacquiao themselves, it has very much been the calm before the storm.
Tempers have been known to boil over at a weigh-in. Given it is the last time these two will have to stare face-to-face before they are in that ring with their respective legacies on the line, tensions will be high.
But even if the sparks do not fly, interest in the event has reached phenomenal levels. The MGM Grand sold over 10,000 tickets for the weigh-in at $10 (£7) a pop – the proceeds going to a charity of each boxer's choice – in just over an hour earlier this week.
What we have learned this week
From the press conference? Nothing much. A cordial affair featuring the fighters, Top Rank chief Bob Arum and Mayweather Promotions CEO Leonard Ellerbe passed without incident on Wednesday evening.
Pacquiao has never been one to dip into the practise of pre-fight theatrics and trash talking and that continued on 29 April as he smiled and joked, while Mayweather came across as rather humble (that was not a typo) during his short time in front of the microphone. Both fighters know nothing else is needed as we approach the big day, this fight has sold itself.