Floyd Mayweather has revealed he will retire after fighting Conor McGregor in their highly-anticipated showdown in Las Vegas next week.
The 40-year-old American, who has won world titles across five different divisions, has not stepped into the ring since he defeated Andre Berto on points by unanimous decision to retain his WBC and WBA welterweight titles in September 2015.
Following the fight, which marked his 49th win in as many bouts, the Michigan-born boxer announced his retirement for the second time in his career, eight years on from declaring he would never fight again.
However, Mayweather will make a third comeback when he takes on McGregor at the T-Mobile Arena in Las Vegas on 26 August, but the 15-time world champion said the bout against the Ultimate Fighting Championship (UFC) star will be the last of his career.
"I thought Andre Berto was going to be the last weigh-in, the last training camp," the American was quoted as saying by Boxing News.
"Honestly speaking, I thought that was going to be my last everything. But you never know what can happen. Now we're here for this big event.
"This is my last one, ladies and gentlemen. I gave my word to [advisor] Al Haymon, I gave my word to my children, and one thing I don't want to do is break that.
"I gave Haymon my word, I gave my children my word. I'm going to stick to my word. This will be my last fight."
Mayweather's fight with Manny Pacquiao in May 2015 broke pay-per-view records, with TV revenue alone thought to have passed $400m (£309m). "Money" is expected to pocket around 70% to 75% of the profits from his fight against McGregor, although the exact figures will not be disclosed.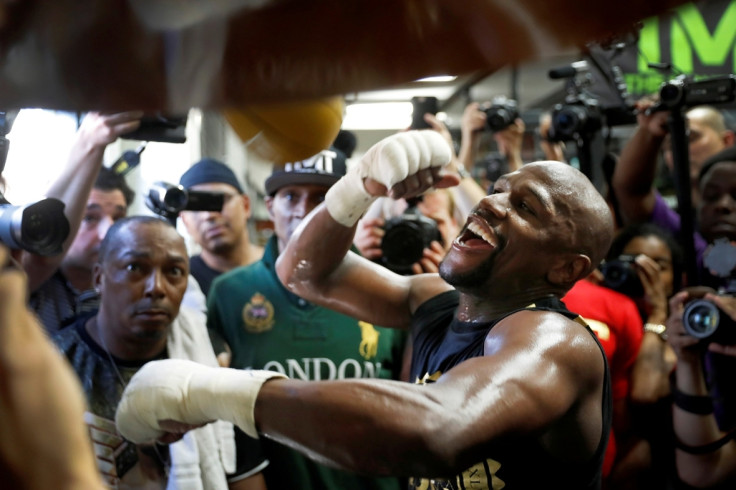 After his final, eye-watering, payday the 40-year-old said he will look at spending more time with his family, while focusing on his numerous commercial activities.
"My real estate portfolio is truly amazing, that's a huge part of my life," he explained. "My children are going to college, that's going to take up a lot of my time, because education is extremely important in my home. I've got businesses started so both my children and children's children can take over from there."
On Wednesday (16 August), the Nevada Athletic Commission approved the use of 8-ounce gloves for next week's fight, after representatives from both camps had requested an exemption to a rule requiring 10-ounce gloves.
The decision was welcome by McGregor, who claimed his opponent will not last more than two rounds next week.
"I don't believe with the new gloves he makes it out of the second round," the UFC champion told reporters on a conference call.
"I don't want people saying 'Oh, it was a lucky punch' and all that. Part of me is hoping maybe he can last so I can show some skill and dismantle him that way. But I do not see him absorbing the blows in the first few rounds."
Since 2006, under Nevada regulations, 10-ounce gloves are required for fights above 147 pounds and the McGregor vs Mayweather bout is set for 154 pounds. However, the former has worn four-ounce gloves throughout his UFC career, while the latter has worn eight-ounce gloves in 46 of his 49 fights.