Conor McGregor has fired another a verbal barb at Floyd Mayweather by claiming the American will not last more than two rounds when the pair meet in a highly anticipated showdown in Las Vegas on 26 August.
On Wednesday (16 August), the Nevada Athletic Commission approved the use of 8-ounce gloves for next week's fight, after representatives from both camps had requested an exemption to a rule requiring 10-ounce gloves.
Since 2006, under Nevada regulations, 10-ounce gloves are required for fights above 147 pounds and the McGregor vs Mayweather bout is set for 154 pounds. However, the former has worn four-ounce gloves throughout his Ultimate Fighting Championship (UFC) career, while the latter has worn eight-ounce gloves in 46 of his 49 fights.
The Irishman, widely considered the heavy underdog ahead of what will be his first ever professional boxing match, believes Nevada boxing regulator's decision to allow eight-ounce gloves will benefit him.
The lighter gloves have less padding over the knuckles and are generally thought to favour the heavier puncher.
"I don't believe with the new gloves he makes it out of the second round," the UFC champion told reporters on a conference call.
"I don't want people saying 'Oh, it was a lucky punch' and all that. Part of me is hoping maybe he can last so I can show some skill and dismantle him that way.
"But I do not see him absorbing the blows in the first few rounds."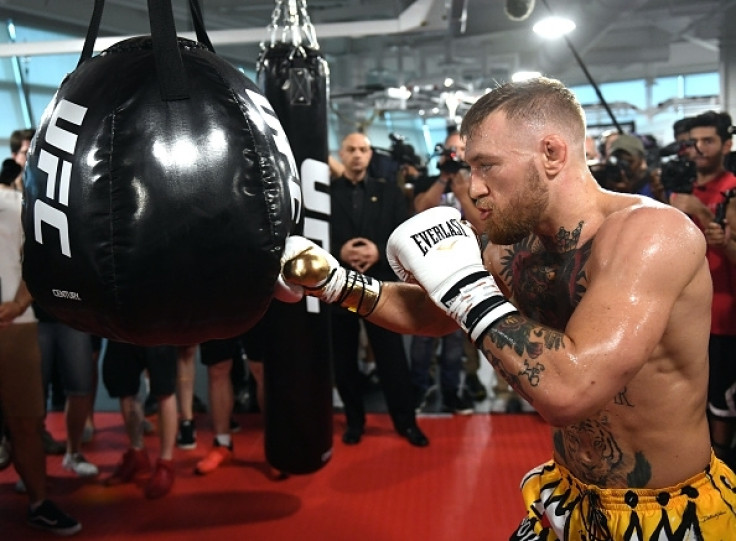 However, while the Irishman believes the fight will be over within two rounds, he stressed he was prepared to go the distance to secure what would be a very unlikely win against the five-division world champion.
UFC President Dana White also believes the switch to lighter gloves will benefit McGregor, although he conceded lighter gloves could also help Mayweather's notoriously fast hands.
"I think it affects the contest a lot," White said. "Yes, Floyd will be faster with eight-ounce gloves but he's more defensive. Conor hits like a truck, so smaller gloves helps him big time. I think it absolutely does."
McGregor and Mayweather have traded insults in the lead-up to next week's fight and the 29-year-old said he felt disrespected by the boxing community, but vowed to use that as a motivation in 10-days time.
"It's certainly motivating. The disrespect of my skill-set," he said. "I look at people and their minds are closed. 'It's a set way and there's no other way'. If that was the case we'd never have reached across the waters and searched for other lands, and never have gone into space.
"When I hear their disrespect, I use it as motivation and I look forward to going in and educating them. I get it. I'm coming in, I understand where it's at, I'm just looking forward to proving what I'm saying and earning my respect in this game also."
However, despite the expletive-laden tirades the two have exchanged, McGregor ruled out that there was any racial element involved in the fight, after Mayweather accused him of making racist comments during a press conference at Wembley Arena.
"For me, it's athlete versus athlete," McGregor said. "I'm disappointed to hear the way it's being portrayed. All I can do is stay focused on my craft and go out and put a performance for my fans."