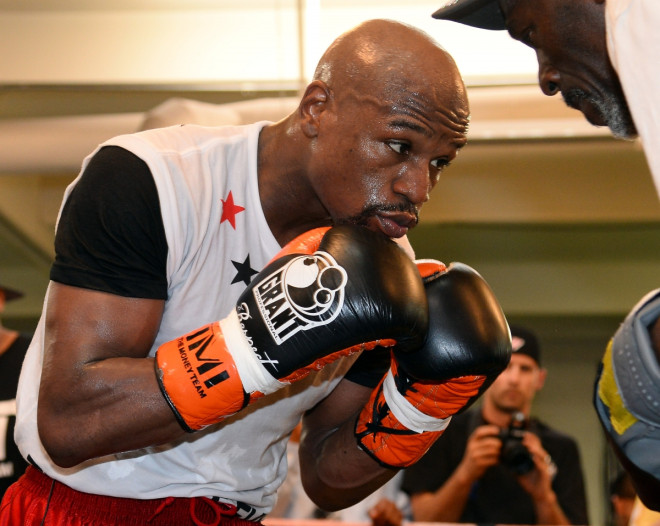 Floyd Mayweather Jr will not follow Amir Khan's blueprint to defeating Marcos Maidana when he takes on the Argentine in Las Vegas on Saturday.
A victory over Adrien Broner last December catapulted Maidana into contention for a bout with the five weight world champion at the expense of Khan, who will be looking to underline his credentials as Mayweather's next opponent with a victory over Luis Collazo on the undercard.
With Broner also looking to force himself back into contention in a meeting with Carlos Molina on the same night, the 37-year-old Mayweather insists he is solely focused on the threat posed by knockout specialist Maidana.
"Adrien Broner's a good boxer and he (Maidana) roughed Adrien Broner up and he got the victory, so we can't say what this guy can or can't do," Mayweather said. "We cannot overlook this guy.
"I just can't say he's going to be an easy fight because he's not going to be an easy fight for me, I don't think so. What I have to do is I've got to make sure that I'm at my best.
"I think when Maidana's facing me his confidence is built after he beat Adrien Broner because he feels that both of the styles are very, very similar, so it's like the same style.
"So 3 May I've got to go out there and take my time, keep my composure and be me. Everybody think he's just going to be a pushover, but I don't think so. That's why I'm training hard and I'm pushing myself to the limit every day."
While it was his victory over Broner, the self-appointed heir to Mayweather's throne, that thrust him into the frame for Saturday's fight, Maidana has already suffered defeat to another featuring on the card in Khan.
Bolton-born Khan, along with Andreas Kotelnik and Devon Alexander, make up the short list of those to have overcome the Argentine, but Mayweather insists he will not follow the same pattern in his attempts to down the WBA welterweight champion.
"My focus is on this guy. I'm pretty sure he's going to be well rounded and ready for this fight because this is at a totally different level," he continued.
"Against Amir Khan, the guy could have been doing a lot of sit-ups and making his body in tip-top condition and tip-top shape. Amir Khan could have just caught him with a good shot.
"My body is in very good condition, but sometimes a guy can hit me with a good shot and I can feel it, but we just don't know how we are going to approach the fight.
"We're going to take our time and go out there and if a guy leaves an opening on his face, we're going to take it, if he leaves an opening on his body we're going to take it, but we can't just say we're going to go in there and everything is going to go to the body. We're going to take our time and pick the guy apart."