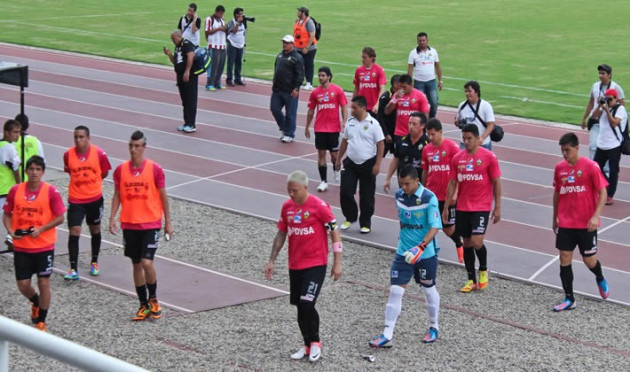 Players for Venezuelan club Deportivo Tachira felt the wrath of fans when they ran out on to the pitch not wearing their usual kit, but a garish pink ensemble instead.
Supporters stormed from the stands and ran on to the field ahead of kick-off against Atletico Venezuela in the Primeira Division.
They were unhappy at the team abandoning its usual ensemble of black and yellow stripes - for one match only.
With fans waving their replica shirts around their heads and chanting the national anthem of Venezuela, officials at Pueblo Nuevo stadium in San Cristóbal were powerless to end the ad-hoc protest for 40 minutes.
Deportivo's attempt to support the fight against breast cancer ended with the referee abandoning the game. The club had given free tickets to women who turned up for the match wearing pink ahead of kick-off.
Club captain Andrew Rouga apologised for the disturbances.
"As players we want to congratulate the institution, which remained strong at all times, supporting this worthy cause."
In a statement on its website, Deportivo announced an investigation into the incident and offered refunds to disappointed fans.