Pick a Saturday, any Saturday, and you can be sure that Match of the Day's guests will spend more time poring over penalty decisions in excruciating detail than watching actual highlights of the football. "Stonewall penalty," says Alan Shearer. "No way," says Robbie Savage. No one even knows what a "stonewall" penalty is, but never mind.
Last weekend it was the turn of referee Jon Moss to have his decisions in the Leicester vs West Ham United game analysed beyond recognition. At the beginning of the season nobody would have thought that this would be the biggest game of the weekend, but that's another story. Leicester's Jamie Vardy was sent off, two penalties were awarded and referee Moss was central to the action. The MOTD experts and football fans everywhere watched incidents over and over again in super slow-mo and still could not make definitive answers that satisfy everyone.
Ex-officials who have decided to pursue media careers appear to have abandoned the referee's club. In a far-from-supportive statement, former referee's head Keith Hackett told Talksport the game was "too big" for Moss and the referee went "from one chaotic decision to another". Added Hackett: "The final penalty that he gave against [Andy] Carroll was a joke." Another celebrity ref, Graham Poll, however, told The Daily Mail that it was a penalty.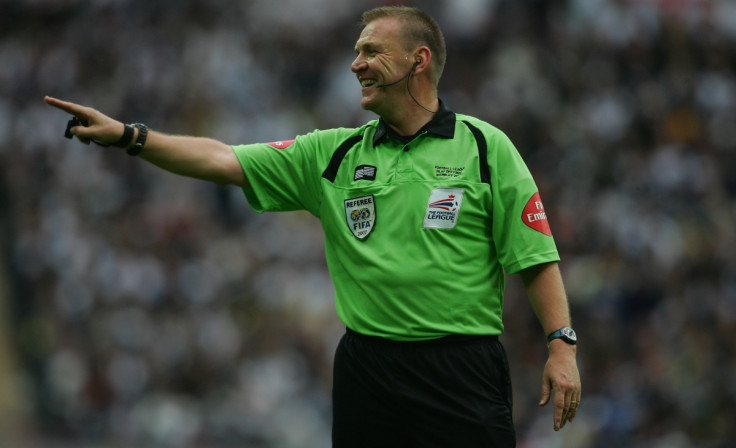 So, experts, with the benefit of hindsight, replays and slow-mo, can't agree on something that everyone seems to believe that the referee had to call correctly, in the pressure of the moment, and with the benefit of no help beyond his own eyesight.
So many of football's rules are open to interpretation, consciously or subconsciously: Ball-to-hand? Hand-to-ball? If a penalty can only be awarded for a "deliberate handball" we are moving into not just an area of interpretation, but of intent. Once we are asking questions about a player's intention we are asking the referee to be a mind reader.
Why do we heap all of this pressure – and abuse – on to one set of shoulders? Footballing authorities clearly know that this is an awful lot to ask. Over recent years linesmen have been upgraded to assistant referees and extra officials behind the goals have been trialled to help out too. But this is tinkering when a quantum leap is required.
This is an area organised very differently in north American sports: there are four officials on the ice in the National Hockey League; there are three on-court officials for National Basketball Association games; Major League Baseball features a team of umpires (more in the play-offs).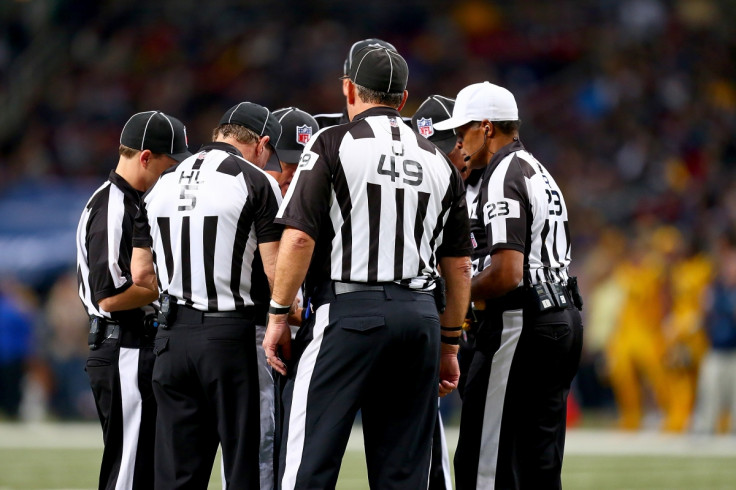 In the National Football League there are seven officials – only one being called a referee, the others being umpire, head linesman, line judge, back judge, side judge, centre judge – but the point being that they share collective responsibility. When an official throws a yellow flag to indicate an infringement in a game of America's version of football the team of officials confer before announcing the decision to the stadium.
Sure, there are (in)famous referees in north American sports and there are controversial calls, but there are also more officials to share the workload. And the blame. So why does football cling to the idea that there should only be one referee?
This is not an argument for more video replays or for slowing the game down. The format of an NFL game already features many breaks and lends itself to reviews but it also means that a game with 60 minutes of actual game time lasts longer than three hours. The football played by the rest of the world lasts for 90 minutes and is hardly interrupted.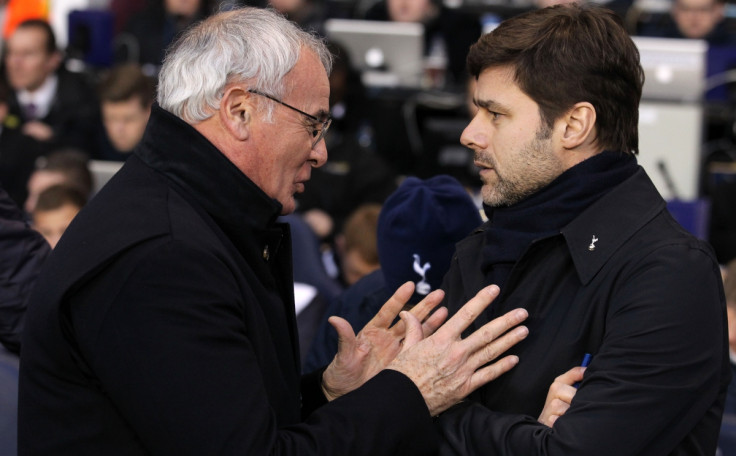 But collective responsibility, shared thinking and experience would surely make the task of the figure at the heart of football that much simpler. How about three referees? One based in each half and a chief ref roaming. This would guarantee someone was always near the action and that in the event of a contentious incident a majority decision could be made by the refereeing team.
And beyond the interminable arguments about this penalty decision or that yellow card, perhaps we should all grow up and realize that trophies are not won or lost on individual decisions. Over the course of a season, these things balance themselves out. One week fortune is against you, the next you get lucky. We rarely acknowledge this when we are feeling hard done by, but it's the way of the world. Trophies are usually won by the best team and rarely because an official makes a decision we don't like.
---
What do you think? Please share your thoughts in the comments below or via Twitter to @Busfield.
---
Steve Busfield has written and edited for some of the world's biggest newspapers and web titles. This includes being the Guardian's sports editor for the launch of its US edition. Most recently he oversaw ESPN's global football coverage.