West Ham United could have managed their move to the London Stadium much better, according to the Football Supporters' Federation (FSF). The Hammers swapped Upton Park for the home of the London Olympics over the summer, but the much-discussed relocation has been marred by crowd trouble at more than one home fixture.
During the weekend, Watford's sensational comeback win at the London Stadium was overshawdowed by West Ham fans scrapping with each other in the stands and further disturbances between the two sets of supporters. The trouble among Hammers fans was sparked by people choosing to stand during the match, when they had already been instructed by the club they needed to stay seated for the most part.
In total, ten spectators were ejected and three handed over to police, according to The Times.
The FSF — which represents the rights of fans in England and Wales — has accused the Hammers hierarchy of failing to take a proactive approach to the stadium move. "Supporters are ultimately responsible for their own behaviour and it's disappointing to see scenes such as those witnessed at London Stadium over the weekend," a spokesperson for the FSF told IBTimes UK.
"However, there are concerns about how West Ham United's migration to the London Stadium has been handled. There was an expectation amongst many match-going West Ham fans that they could continue their tradition of standing at the match.
"There are also numerous comments across social media and on forums by West Ham supporters questioning the calibre of the new stewards at the London Stadium and wondering at the lack of police officers on duty. "
The FSF cited Cardiff City as an example of a club who have made a successful switch of stadiums in 2009. "Cardiff City's migration from Ninian Park to the Cardiff City Stadium shows how such a process can be managed proactively with the creation of a 'singing section' in consultation with supporters for the benefit of all," the spokesperson explained.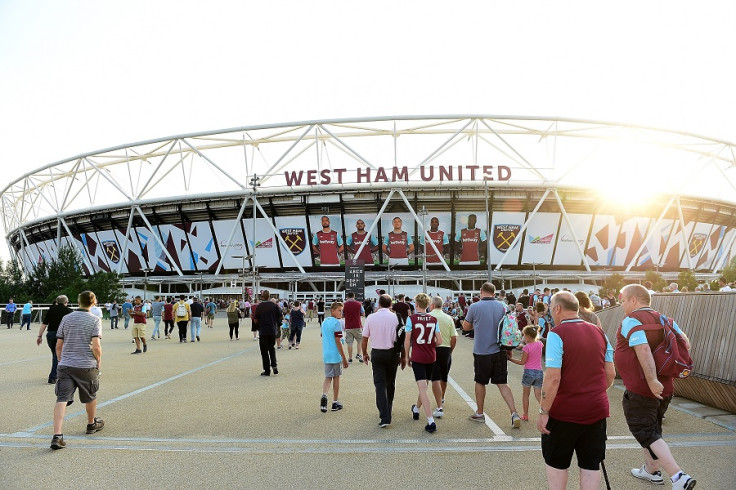 The Hammers have sent letters to their supporters about standing during games and have been forced to reduce the capacity of the stadium. The problem has also come amid renewed calls from some football supporters for the introduction of safe-standing areas, which has already been successfully implemented by Celtic in Scotland, as well as by other top-flight clubs in Germany, Sweden and Austria.
The FSF has insisted the idea could be introduced south of the border, although the organisation stressed that fan engagement was crucial to resolving West Ham's current problems. "In Scotland, Celtic have shown how safe standing can satisfy the most exuberant groups of supporters who expect to stand at football matches," the FSF spokesperson stated.
"But whatever the solution to the current problems at London Stadium, there needs to be meaningful engagement with the supporters. They have to be part of the solution."