Ford Mondeo Vignale review: Will Mondeo Man be convinced to upgrade to a smart new suit?
We drive the new, up-market Vignale version of the Ford Mondeo.
Spending more than £30,000 on a Ford Mondeo sounds like a crazy thing to do. It's 50% more than the base Zetec model and puts the blue collar, blue badge car into a market dominated by Audi, BMW and Mercedes. Would a buyer used to these brands look twice at the Vignale? Would a driver looking for an upgrade stick with the brand they know, or would they jump to the Germans? I borrowed a Vignale for the weekend to find out.
It's difficult to get that price tag out of your head when you first take delivery of a Mondeo Vignale. But softening the blow to my metaphorical wallet is the amount of kit you get for your money. Already a highly specced car, the Mondeo gains just about every toy and gadget in the options book when you go Vignale. Heated seats (driver's side electric with memory), privacy glass, leather absolutely everywhere, extra sound deadening, lane departure warning, auto lights and wipers, keyless entry and go...it has everything.
What is Vignale?
Andy Barratt, managing director and chairman of Ford of Britain, told IBTimes UK that Vignale is "the highest expression of luxury" from the company, adding that it wants to compete in the arena previously controlled by BMW, Audi, Mercedes and Jaguar.
Barratt added: "What we have is a lot of customers who travel through the Ford brand and then defect because they outgrown the Ford brand. Vignale is part of our plan to retain customers in the Ford brand for longer. Mustang is in that space too."
Marketing for the Vignale sub-brand begins in the UK in November, but Ford says it has already seen customers switch from the German brands when they are shown what the Vignale range can offer. Cars will be sold through 55 'Ford Stores' across the UK, each with a Vignale Lounge. Customers will be introduced to a relationship manager who will deliver their car, then collect and return it from their home or office when it's due a service.
After pawing over the gadgets, I take up residence in the back seat. It's 6am and I'm joining some friends at the penultimate round of their karting championship. With the lifelong Ford fan of the team behind the wheel, and the Vignale taking us around the M25 into an autumn dawn, we take in our surroundings. The cabin is eerily quiet, helped by extra sound proofing over the standard Mondeo. Privacy glass means it's just about impossible to see in through the rear screen and side windows, while the heated front seats do their job as well as they would in any of its upper-class rivals.
The Vignale is a lovely place to sit, but I wonder how much of this comfort and luxury is a psychological side affect of knowing the price and understanding what market the car is aimed at.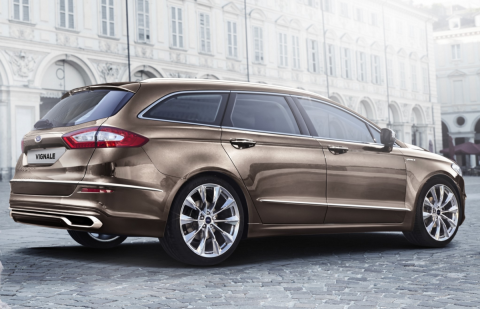 Had Ford sent the diesel Vignale, there would have been another gadget to appreciate: A sound cancelling system unique to that model cancels out the engine's noise, just like those clever headphones do when you're on the plane. Instead, we have the 240PS 2-litre Ecoboost petrol motor, mated to a six-speed automatic gearbox with steering wheel-mounted paddles for when you want to change gear yourself.
As with the rest of the Ecoboost range, there's a surprising amount of performance when you put your foot down. Sixty takes just under eight seconds and Ford says the top speed is 130. In the real-world of traffic and speed cameras the Vignale was perfectly comfortable in any situation, pulling strongly to overtake on the motorway, and cruising quietly and effortlessly through town.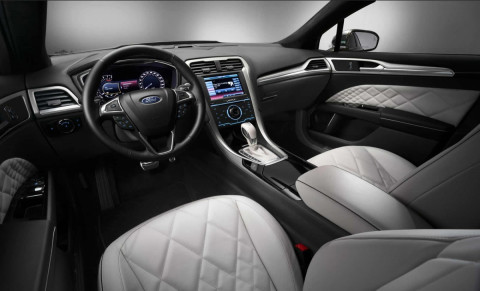 Leather from the same supplier as Bentley covers the Vignale's interior
Ford
Arriving at the circuit in daylight gives us chance to inspect the exterior tweaks which make a Vignal stand out from your common-or-garden Mondeo. There's a chrome grille - actually, there's chrome everywhere - larger 21in wheels, and a palette of colours unique to the range. The standard Mondeo is a handsome car, but the Vignale takes this up a step. The changes aren't all that noticeable to the untrained eye, but I suspect that's the point. Buying a Vignale means you can treat yourself to a bit of luxury without inheriting the polarising images of Mercedes, BMW and Audi.
So there's no denying that the Mondeo Vignale is a lovely place to be, and after taking over for the drive back after a day's karting, I can confirm that it's rewarding to drive as it is comforting to be a passenger in. And it may be equipped like a luxury saloon, but it still has that Ford sharpness and feeling of agility the brand has become known for.
But is it worth the money? Ford says the unique Vignale customer experience is worthy of the extra cost. Buyers get their own 'lounge' to use in Ford dealerships, but what exactly this entails we'll have to wait and see. The Vignale range is also subject to more intense quality control at Ford's Valencia factory - that way Ford can say the car is 'hand-finished', even if this means little more than a man in a lab coat checking doors close properly. There's also a range of Vignale branded accessories, like wallets, luggage and handbags, although I feel this is more for Ford's vanity than that of its customers.
Ford Mondeo Vignale
(8/10)
These details all add up to something new and, ultimately, something which takes Ford into unchartered territory. Marketing for the Vignale will begin in November, but it will surely take a considerable effort to get the word out about what Ford is doing. My suspicion for now is that, while the Vignale spec adds enough to bring the Mondoe into the same league as a £30,000 Mercedes or Audi, consumers will need a lot of convincing.
Proof of the Vignale's success or failure will come when the first cars come onto the second-hand market; will they command a premium in three years' time? Or will the Vignale brand fail to hold its value above the cheaper Titanium X? Unless Ford separates the Vignale brand from the rest of the range as much as Land Rover does to Range Rover (which has its own dealerships), then I can't see second hand buyers giving it the attention - and value - it deserves.
This will ultimately come down to marketing. If Vignale becomes to Ford what Range Rover is to Land Rover, then it could well disrupt the Germans. But in making Vignale a trim level and not a separate model of car, I think it could struggle to get off the ground. I hope I am proved wrong.