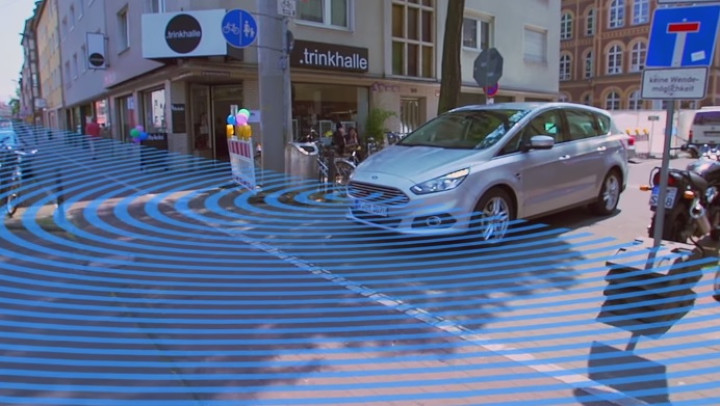 To help save cyclists from being hit by traffic at blind junctions, Ford has announced an option for its new Galaxy and S-Max models which lets the driver see around corners.
Called split-view, the camera has a resolution of just one megapixel, but offers a 180-degree field of view, far wider than conventional cameras, letting the driver see around cars parked at the edges of a junction.
With the system activated, they can keep an eye out for approaching cyclists or other small, fast-moving objects that would otherwise be hidden until they had pulled out into the road.
The driver must press a button for the camera to switch on; it then beams a colour, 180-degree video feed to the car's dashboard display. There's also a pop-out jet washer which sprays water at the lens to keep the camera clean. The 1MP resolution is curiously low, considering the cheapest smartphones have more impressive cameras - and we don't know how well the system will work at night.
Technologies like these will become invaluable when there are more near-silent electric cars on UK roads, which are impossible to hear approaching at busy, unsighted junctions in city centres. The camera will also help drivers of electric cars keep an eye out for careless pedestrians who may walk out because they can't hear anything coming.
AA driver training manager Keith freeman said: "This technology will certainly make emerging from anywhere with a restricted view so much safer and the experience less nerve-wracking for those behind the wheel."
"We have all been there and it's not just blind junctions that can be stressful, sometimes an overhanging tree, or bushes can be the problem," said engineer Ronny Hause who worked on the system. "For some, simply driving off their own driveways is a challenge. This is one of those technologies that people will soon wonder how they managed without."