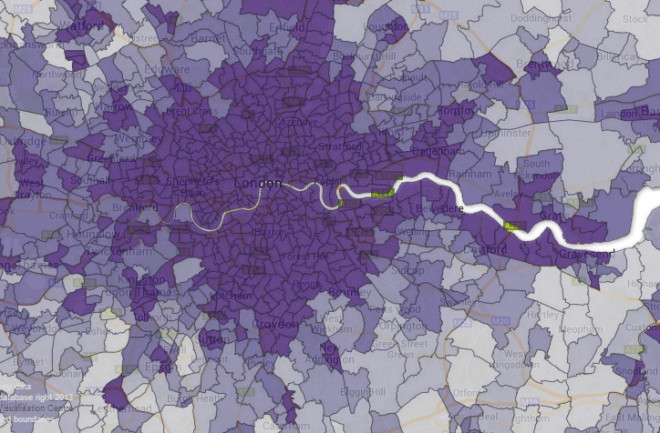 If you're single in London and are on the lookout for someone special, a new map from the Office of National Statistics suggests Islington might be a good place to search.
The ONS has released an interactive map detailing the number of single men and women living in the UK, which has risen by 3 million in just ten years.
The data reveals that over half of people are unattached in some areas of the country, including Islington in North London, in which 63% of men were classed as single - the highest proportion in the UK. Following closely behind are Lambeth, with 61%, and Hackney, with 60%.
See the interactive map below (darker areas show highest proportion of single men and women, who have never been married):
Other areas with a high number of singletons include Manchester, the London borough of Tower Hamlets and Fulham, where 59% of men were identified as single. In Cambridge and Oxford, 57% of men were single.
Islington also has the highest number of single women, with 57% stating they did not have a partner. Lambeth, with 56%, and Hackney, which had 55%, were the second and third consecutively single areas.
The other London boroughs of Hammersmith, Fulham, Wandsworth and Camden all had 53% single women.
The areas with the fewest number of single men and women were outside the capital, including East Devon, where only one quarter of men and less than one fifth of women classed themselves as single.
East Dorset contained the lowest percentage of single men, with just 24%. North Kesteven in the East Midlands, East Devon and South Northampton all had 27%, while Christchurch had 28%.
East Dorset also had the lowest number of single women, with just 18%. Richmondshire had 20%, followed by East Devon, North Norfolk and Hambleton in North Yorkshire, in which 21% of women were single.
The ONS said: "The majority of the top 10 local authorities with the highest proportions of those who were either never married or unmarried were in London. Local authorities with high proportions of single people had younger populations. Oxford, for example, appeared in the top 10 for both groups.
"The rise in the single population could be the result of a number of factors, including the proportional decline in marriage since the 1970s and the increased social acceptability of remaining single or cohabiting (either never marrying or not re-marrying following divorce or widowhood."
Overall, however, there has been a rise in single men and women across Britain and in 2011, over 15.7 million adults and 35% of people aged over 16 in England and Wales had never married. The number has risen from 12.5 million in 2001.
In addition to a rise in single men and women, the single population itself also also ageing as a result of more older people being divorced and widowed. In 2011, the median age of the adult population who had never married was 27.5, compared to 26.9 ten years earlier.