They have been vocal in their disapproval of Beyonce's message in her new single Formation but the protesters against the movement failed to show up for their own protest. The "anti-Beyonce rally" was scheduled to take place outside the National Football League building in New York on 16 February but only pro-Beyonce campaigners were present.
In anticipation of the demonstration, police officers were stationed outside the building near Park Avenue and barriers were put in place to control the expected crowds. However, when the protest began at 8am the Beyonce critics were nowhere to be seen with only supporters of the Black Lives Matter Movement and fans of the singer turning up. Mary Pryor, organiser of the Beyonce supporters, told The Guardian: "There are no haters here to hate on."
Around 30 supporters of the Grammy-winner brandished banners and posters with slogans including: "End police brutality and murder," and "pro-black doesn't mean anti-white". Around 9am, one anti-Beyonce protester, Tim Winterhalter, arrived and admitted he had not even watched Beyonce's Super Bowl half-time show performance where she performed Formation, but agreed with the views of the protest group.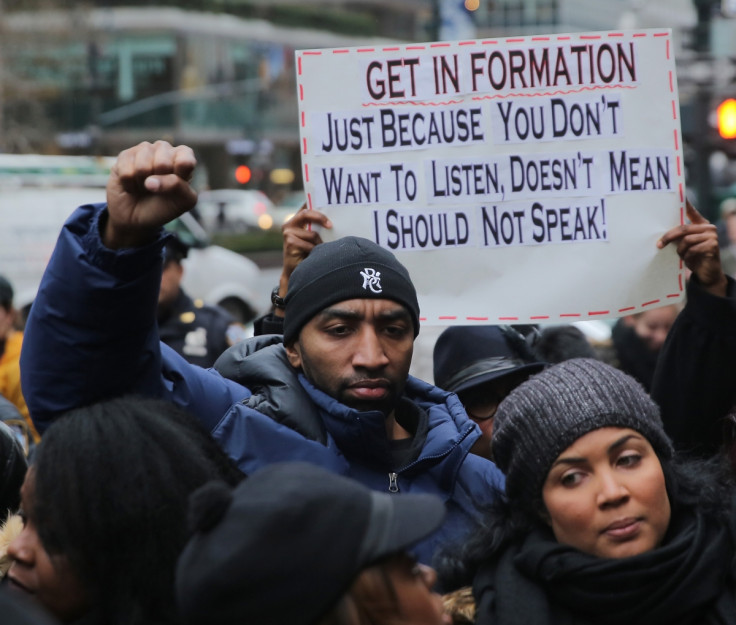 Winterhalter explained: "This is a football game. If you want to have something with politics, you don't have to do it on a football field." Another anti-Beyonce protester, Ariel Kohane, said she was disappointed with the no-show from her fellow campaigners, admitting: "I was expecting to meet thousands of people. I'm here to protest Beyoncé's ideology and that she should be more constructive and she should be trying to create peace and harmony instead of divisiveness."
Formation features Beyonce addressing the ongoing issue of racial tension in America while proudly embracing her African-American heritage. Lyrics include: "My daddy Alabama, momma Louisiana / You mix that negro with that Creole make a Texas bama," and "I like my baby heir with baby hair and afros / I like my negro nose with Jackson Five nostrils."
However, some were outraged that Beyonce, 34, performed the song at the Super Bowl to make a political statement. One protester used EventBrite to list the anti-Beyonce rally and wrote: "Are you offended as an American that Beyoncé pulled her race-baiting stunt at the Superbowl? Do you agree that it was a slap in the face to law enforcement? Do you agree that the Black Panthers was/is a hate group which should not be glorified? Come and let's stand together. Let's tell the NFL we don't want hate speech & racism at the Superbowl ever again."
The would-be protest was scheduled for the same day that tickets for Beyonce's Formation world tour went on sale in the UK. Tickets for the singer's show at Wembley Stadium sold out in less than 30 minutes, prompting another date to be added at the iconic venue on 3 July 2016.