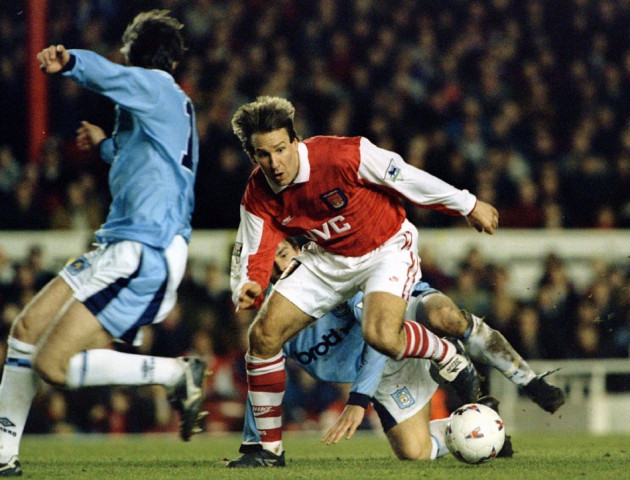 Former England international Paul Merson was arrested Wednesday on suspicion of drink-driving after crashing into a lorry in the early hours of the morning.
Merson, 43, has admitted to falling asleep at the wheel of his Mercedes before hitting the central reservation and colliding with a lorry on the M40 near Warwick shortly after 3am.
The Sky Sports pundit was photographed leaving hospital this morning with a gash above his left eye and blood stains on his shirt.
The former Arsenal and Middlesborough midfielder told the Daily Mirror: "I fell asleep and just hit the central reservation. I banged my head on the windscreen and the car is a write-off.
"I'm very lucky to have survived. I managed to get out by myself and the emergency services were brilliant. Now I just want to get home and have some rest."
Merson was driving to his home in Sutton Coldfield, Birmingham when the accident occurred. He had attended a charity event for Children in Need in Battersea, south London earlier in the evening.
A police spokeswoman said: "Following a roadside breath test, the 43-year-old male driver of the Mercedes was arrested on suspicion of driving with excess alcohol.
"He was taken to Warwick Hospital for treatment to a cut to the head. A blood sample was taken for analysis while at hospital and he was then de-arrested."
The spokeswoman explained that he was de-arrested rather than bailed because he had not been taken into police custody at a station.
Merson, whose previous troubles with alcohol and drugs have been well documented, won 21 caps for his country.