Former Canadian prime minister says women shouldn't bare their arms on TV because 'it's demeaning'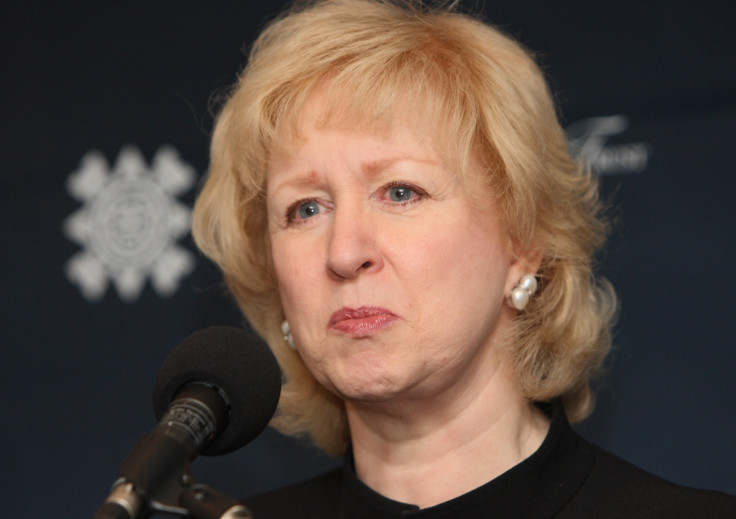 KEY POINTS
Kim Campbell said that bare arms undermine a woman's "credibility and gravitas" on television.
The former PM was slammed on Twitter for her remarks.
A former Canadian prime minister has sparked controversy by saying that women should not bare their arms on television because it is "demeaning."
Kim Campbell, the 19th prime minister of Canada from June to November 1993, said that bare arms undermine a woman's "credibility and gravitas" on Tuesday (13 February).
She tweeted that she is always amazed at "how many women on television news wear sleeveless dresses – often when sitting with suited men."
Campbell's tweet included a link to an article by US speaking coach Nick Morgan titled What Should A Speaker Wear.
"Think about what this means when you put on that sleeveless dress, women, or that expensive, cool-looking casual T-shirt, men. It means you're going to look less brilliant than if you covered your arms," the article states.
Campbell, who currently chairs Canada's Supreme Court Advisory Board, referred to Morgan's article to support her argument that bare arms are "demeaning."
On social media, many people took issue with Campbell's comments. Conservative MP Michelle Rempel commented that she "firmly believe[s] in a woman's right to bare arms."
"Wait. Wut? Credibility is earned by wearing sleeves? I give up," she tweeted.
"I think dismissing women because of their outfits undermines credibility and gravitas. Wouldn't it be nice if credibility could be weighed by the content of one's work rather than their apparel?" another woman wrote.
However, others supported Campbell's view. Media trainer Christine Hearns commented on Twitter: "I train people for TV appearances and always recommend both women and men wear long sleeves and formal clothes for credibility in interviews," she wrote on Twitter. "That being said, news anchors and some politicians already have that credibility, so clothes matter less."