Former CIA director John Brennan blasted President Donald Trump on Saturday, (21 January) over a speech Trump delivered at the CIA headquarters in Langley, Virginia.
A statement released by Brennan's former deputy chief of staff Nick Shapiro said: "Former CIA director Brennan is deeply saddened and angered at Donald Trump's despicable display of self-aggrandizement in front of CIA's Memorial Wall of Agency heroes. Brennan says that Trump should be ashamed of himself."
In his speech to CIA officers while standing in front of a memorial wall for 117 fallen CIA agents, Trump said he was with the spy agency, but he also took on the media.
"I can only say that I am with you 1,000 percent. And the reason you're my first stop is that as you know I have a running war with the media. They are among the most dishonest human beings on earth. Right?" Trump said.
He went on to suggest that the media "sort of made it sound like I have this feud with the intelligence community".
A source from the CIA who was present at the speech told CNN that many people in the crowd felt uneasy at the political nature of Trump's comments, in which he also discussed how many people in the crowd may have voted for him.
The source added: "We are not political in that way. Talking about whether we voted for Trump is offensive and foreign to us by the president. Many people felt used and awkward throughout. Of course there was applause, but it was uncomfortable."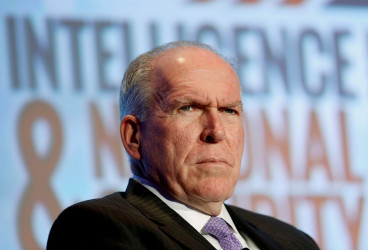 His visit to the CIA was viewed as an attempt to mend fences with the intelligence community after his long feud with them during the transition over Russian cyberattacks.
Trump, however, acknowledged the memorial behind him saying: "The wall behind me is very, very special." He also spoke about eradicating "radical Islamic terrorism ... off the face of the earth. This is evil."
Speaking about Iraq, he said: "We should have kept the oil. Maybe we'll have another chance."
He added: "There is nobody that feels stronger about the intelligence community and the CIA than Donald Trump. I love you. I respect you. We're going to start winning again, and you're going to be leading the charge."
Trump's political comments on the CIA drew a sharp response from the Democrats.
Representative Adam Schiff, a ranking Democrat on the House Intelligence Committee, said in a statement: "While standing in front of the stars representing CIA personnel who lost their lives in the service of their country -- hallowed ground -- Trump gave little more than a perfunctory acknowledgment of their service and sacrifice."