Hollywood's biggest female stars joined hands to support the rights of women, a day after Donald Trump was sworn in as the 45th American President. But it was pop diva Madonna's provocative speech that garnered immense attention at the Women's March in Washington.
The songstress dropped multiple F-bombs during her expletives-laden speech and at one time admitted that she wanted to blow up the White House following Trump's inauguration. "Yes, I'm angry. Yes, I am outraged. Yes, I have thought an awful lot about blowing up the White House. But I know that this won't change anything. We cannot fall into despair," the 58-year-old said.
The Papa Don't Preach singer, who was "horrified" at Trump's win, proclaimed the march was the beginning of a "revolution".
"It took this horrific moment of darkness to wake us the f**k up. It seems as though we had all slipped into a false sense of comfort, that justice would prevail and that good would win in the end," she said and added, "Well, good did not win this election. But good will win in the end." Hitting out at President Trump, she told him to "suck a d**k".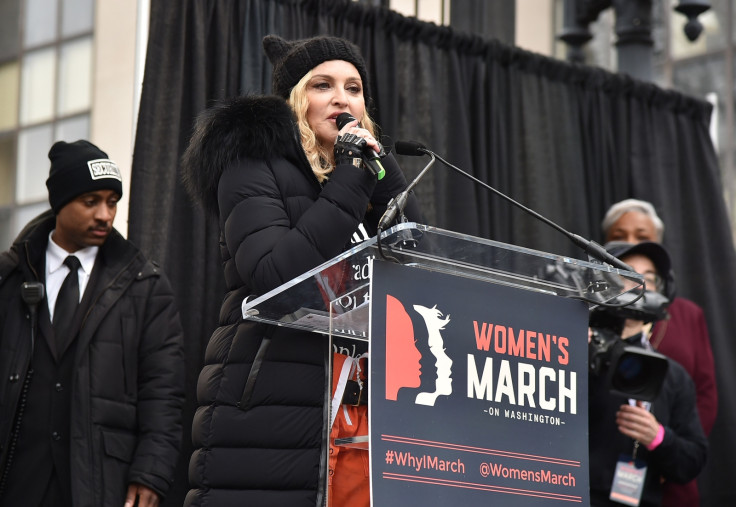 The songstress has publicly denounced Trump on numerous occasions, but her latest R-rated speech attracted criticism. British journalist, Piers Morgan slammed the singer as a 'rabid feminist'. "A 'rabid' feminist is one who threatens to blow up the White House because her friend Hillary didn't win. There's a difference," he tweeted and later added: "Madonna's guaranteed all the headlines will now be about her White House bomb threat & F-word rant. She's wrecked the #WomensMarch."
He later retweeted fellow journalist Paul Joseph Watson's post that read: "Madonna's admission that she had "thought about blowing up the White House" was cheered by #WomensMarch attendees. Let that sink in."
Estimates state that around 500,000 protesters attended the Women's March in Washington to oppose the president's stand on abortion, diversity and climate change. Hollywood stars Julia Roberts, Charlize Theron, Scarlett Johansson, Emma Watson, Ashley Judd, Jessica Chastain, Bella Thorne, singer Cher, models Chrissy Teigen and Padma Lakshmi also attended the protests.