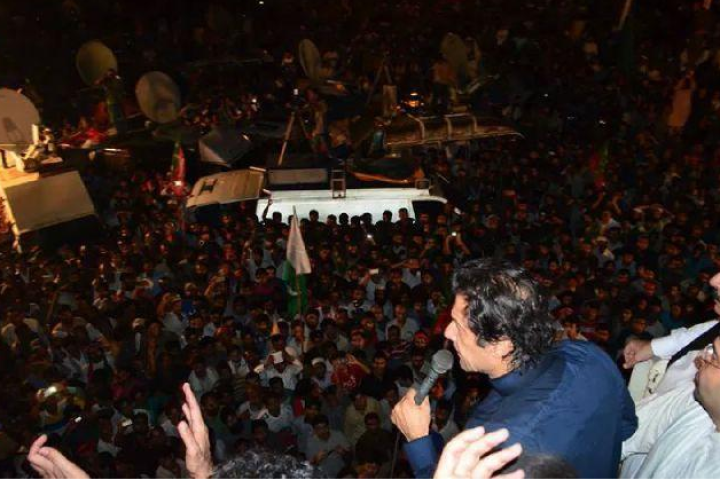 Former Pakistani cricketer and Chairman of Pakistan Tehreek-e-Insaf (PTI), Imran Khan, has bashed the US for a statement, slamming any movement attempting to bring down the democratically elected Prime Minister of Pakistan, Nawaz Sharif.
At a briefing in Washington, State Department Deputy Spokesperson, Marie Harf, said:
"Nawaz Sharif was elected and is prime minister. There is a government that was elected and is in place. We support the constitutional and electoral process in Pakistan.
"And we do not support any extra-constitutional changes to that democratic system or the people attempting to impose them."
In response, Khan has requested the United States not to interfere in his country's domestic affairs.
"The US State Department statement on the current political crisis constitutes interference in Pakistan's domestic affairs," Khan said.
Addressing the US Ambassador to Pakistan, Richard G. Olson, Khan said: "Richard, convey my message to the State Department. Firstly, they have no right to interfere in the politics of Pakistan. If you want Pakistan to be a friend of the US, we are willing, but please remember, a prime minister like Imran Khan can never be a stooge like Nawaz.
"No western democracy would accept such elections. Are we, Pakistanis, children of a lesser god? Why have you adopted a different policy for us."
Meanwhile, Islamabad's Inspector General Aftab Cheema was mysteriously removed from his services on Thursday (21 August) for failing to use force against the PTI and Pakistan Awami Tehreek (PAT) supporters.
Prime Minister to address the nation
Prime Minister, Nawaz Sharif, has so far rejected calls to step down, defending his decision on the basis of maintaining harmony in the country.
In a meeting with senior journalists in Islamabad today (21 August), Sharif said: "The country cannot afford the current situation as the crisis can harm the country."
PM Sharif is set to address the country on Friday (22 August), it was confirmed in an official statement.
Pakistan's economy takes a hit
Defense Minister, Khawaja Asif, has confirmed that the government will not be using force against the protesters, and the situation should be resolved soon through negotiations, as the protests are affecting Pakistan's economy.
The International Monetary Fund (IMF) has cancelled their visit to Islamabad, Asif reported.

Imran Khan has suspended all talks with Pakistan's government today (21 August) until Pakistani Prime Minister, Nawaz Sharif's government resigns.
PAT and PTI supporters have parked themselves in front of the Parliament House in Islamabad, while the government has called on the army to manage law and order in the Red Zone.