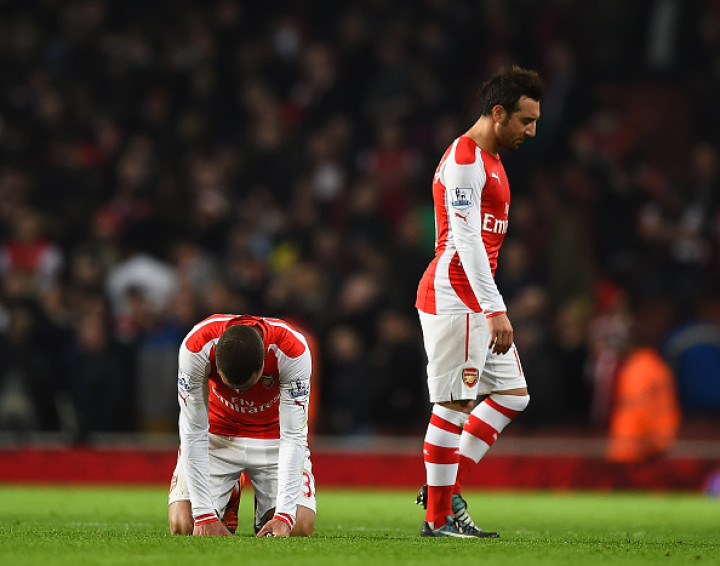 Former Liverpool midfielder Graeme Souness says Arsenal are vulnerable to the counter-attack, which led to their defeat against Manchester United on Saturday.
Louis van Gaal registered his first away win as the 20-times English champions sealed a 2-1 victory over their arch rivals at the Emirates. The Gunners had better possession throughout the game and created more chances than United.
Souness says the defeat will have an impact on Arsenal's confidence as they face Borussia Dortmund next in the midweek Champions League fixture.
"We spoke about confidence before the game and that's what both these teams need. But Arsenal are going away with even less than what they started with after this," Souness told Sky Sports.
"United had to rely on their goalkeeper but they grew into the game and became threatening in the second half, while again we come back to Arsenal's vulnerability. When Arsenal get on the front foot, the empty spaces they leave behind them makes them so vulnerable."
"It happens all the time. At 1-0 you're still very much in the game. You must play like that, until the last minute when you have to go for it."
"They got picked off but they play like that when they're winning 1-0! They leave empty spaces all the time. You have got to have someone who is willing to sacrifice themselves and fill spaces. If they had someone thinking like that a lot of their problems would be eliminated."
Kieran Gibbs' own goal gave United the lead before their skipper Wayne Rooney doubled the lead after Arsenal were caught on the counter-attack once again on Saturday. Angel Di Maria had a chance to score the Old Trafford club's third goal, but failed to put the ball behind the net.
Souness hailed Rooney's performance against Arsenal and claimed the England international's goal was the reward for his hard-work during the training sessions.
"Rooney was very workmanlike and did a job for the team. I'd imagine Rooney is first on the training ground and last off the ground. He just loves football and that's the way he plays," the Liverpool legend said.
"He's quite happy just to be on the pitch. That was the case tonight. His job, his priority was to stop Arteta getting on the ball and doing things."
"He's a goal-scorer and they like to see their names in the headlines on a Monday morning, but he's also willing to do a job for the cause," Souness concluded.