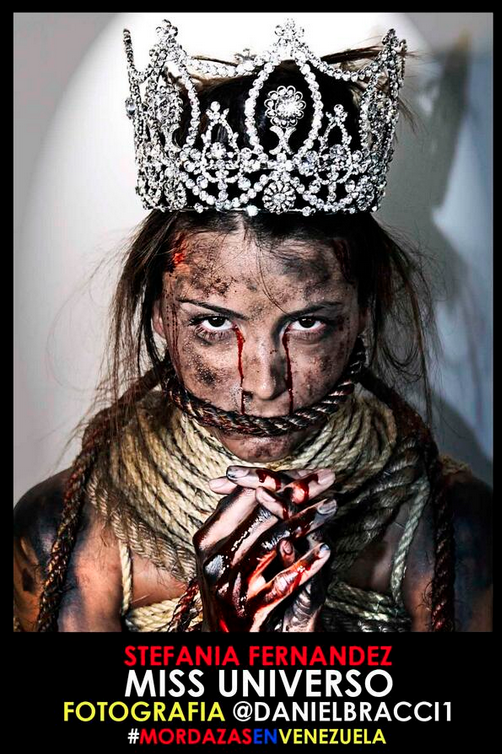 To highlight Venezuela's escalating violence, Stefania Fernandez, a beauty queen who was crowned Miss Venezuela and Miss Universe, has posed tied up with ropes.
The South American model is at the centre of a social media campaign, in which she is bound with rope and bloodied, in protest at President Nicholas Maduro's violent crackdown on his opponents.
Protests against Maduro over the collapsing economy and high murder rates have left 36 dead.
Among the dead was another beauty queen, Genesis Carmona, who was fatally shot in February while demonstrating.
Leopoldo Lopez, the opposition leader, has been detained since 18 February on terrorism charges, and at least two other mayors have been imprisoned.
Monica Spear, another former Miss Venezuela, was murdered in January with her British husband in a motorway robbery, weeks before the protests began.
On Tuesday, three members of the Venezuelan Air Force were arrested for conspiring against the government, Business Insider reported.
Opposition leader Leopoldo Lopez condemned the "shameful silence" of leaders from across Latin America toward human rights abuses being carried by "paramilitary groups" loyal to President Maduro.
"The [Organization of American States], which represents nations in the Western Hemisphere, has abstained from any real leadership on the current crisis of human rights and the looming spectre of a failed state, even though it was formed precisely to address issues like these," Lopez wrote in the New York Times.
Venezuela's top court has sentenced the mayor of the city of San Cristobal to a year in jail for failing to break up anti-government protests, extending a crackdown on opposition leaders associated with nearly two months of demonstrations.
The Supreme Court ruling issued late on Tuesday determined that Daniel Ceballos disobeyed an earlier court order that his administration remove barricades set up by protesters demanding the resignation of President Maduro.
Demonstrators since early February have routinely used debris and burning rubbish to block the streets of San Cristobal, a city in the western Andes region near Colombia.
The protests began there early in the year with sporadic student demonstrations, and it remains the city most affected by the unrest.
Ceballos, who has condemned violence but openly supported the protests, was also stripped of his post, according to a Reuters report.
Opposition leaders say the recent actions are evidence that the country is sliding into a dictatorship that muzzles dissent and arbitrarily jails elected officials.
#MordazasenVenezuela should also be #mordazasenBolivia #evomorales refuse #aid #rainforest victims no #presscoverage pic.twitter.com/pYus4yLm5X

— Amazon Beni Bolivia (@AmazonSos) March 26, 2014