An American man who was freed from a North Korean labour camp in 2010 burned to death in San Diego last week.
Aijalon Gomes had been teaching English in South Korea when he was arrested while crossing the North Korean border. He was sentenced to eight years of hard labour for illegally entering the totalitarian country.
Former US President Jimmy Carter personally negotiated his release during a private humanitarian trip in 2010. Following his release, Gomes wrote a book about his experience as a prisoner entitled Violence and Humanity.
Gomes was found on fire on Friday (17 November) at a dirt lot in Mission Bay Park, San Diego. He collapsed in the field and was engulfed by the flames, Fox News reported.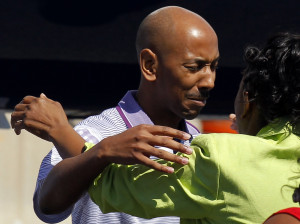 Police said his death appears to have been either an accident or suicide. They are investigating the death.
Gomes' mother, Jacqueline McCarthy, described him as a "very good human being".
"He loved people. He loved his family," she said.
McCarthy told the Union-Tribune that her son had struggled with post-traumatic stress disorder since his release and had become isolated from his family.
In a Facebook post, Gomes' friend Marshalette Wise suggested that he suffered from mental health problems.
"I say all of this to say that we should move away from mental health issues being such a stigma in our community. If you need help or your mood isn't what you feel it should be, don't be embarrassed to seek help and if you know someone who may be suffering, offer them a kind word as it just may make all the difference," she wrote.
Gomes is not the only American to have been imprisoned in North Korea. Student Otto Warmbier was detained at Pyongyang airport in 2016 for stealing a poster and sentenced to 16 years of hard labour. He was released earlier this year after falling into a coma. He died six days after arriving back in the US.