Sunday 28 August was not a good day for Donald Trump, starting with President Obama's campaign manager calling the Republican presidential candidate a "psychopath." "Basically, you have a psychopath running for president. He meets the clinical definition," said David Plouffe, a former senior adviser to Obama and manager of his 2008 campaign.
Plouffe ticked off the signs: "grandiose notion of self-worth, pathological lying, lack of empathy and remorse." He, however, also conceded in his interview on Meet the Press that he doesn't have a psychology degree.
Later in the day, Trump's new campaign manager Kellyanne Conway attempted damage control after Trump gloated about the shooting in Chicago of Nykea Aldridge, which left the cousin of NBA star Dwyane Wade dead. The mother of four was shot dead in the crossfire between two men.
In a hugely controversial tweet, Trump appeared to use the shooting as an opportunity to win over voters. He tweeted: "Dwyane Wade's cousin was just shot and killed walking her baby in Chicago. Just what I have been saying. African-Americans will VOTE TRUMP!" (The candidate's very first tweet misspelt Dwyane as "Dwayne.")
The tweet, slammed as a heartless political manoeuvre, was followed hours later by a condolence tweet, with Trump noting that Dwyane Wade and his family "are in my thoughts and prayers."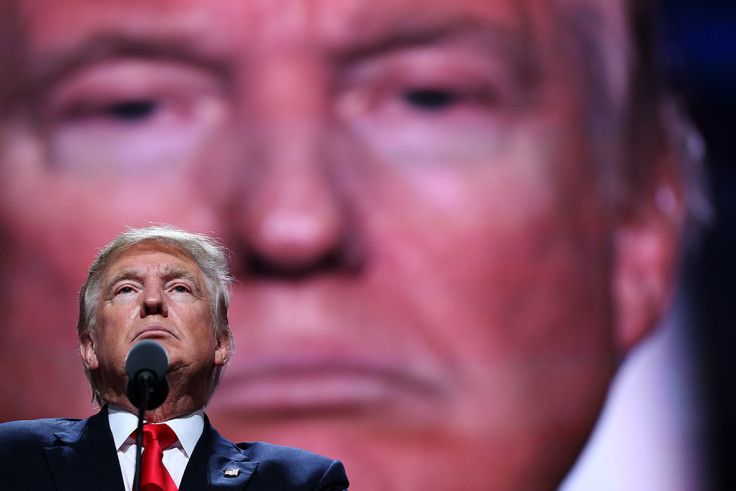 When asked about the initial tweet on Face the Nation, Conway repeatedly dodged defending it and pointed instead to the second tweet. "He tweeted his condolences to the family right after that, and I'd like everyone to know about both tweets," she said.
Face the Nation reporter John Dickerson noted that when tragedy occurs, Trump's "first instinct is to talk about himself, his policies, to see tragedies as a validation of what he's been saying. Is that healthy for a presidential candidate to do that?"
Conway iterated that Trump's tweets aren't important, and that the news media should be paying attention instead to his speeches.
However it seems the media is paying even closer attention to Trump's tweets. The above messages were tracked, with the original message – in Trump's shoot-from-the-hip style – was sent from an Android phone, while the later tweet is from an iPhone. Invariably more reasoned and diplomatic, the condolence is reportedly likely to have been written by someone on his campaign.
Trump's vice presidential candidate Mike Pence, meanwhile, was trying to clarify Trump's ever-shifting position on immigrants. Asked about Trump's once-touted "deportation force" to eject illegally immigrants from the US, Pence insisted the term referred to a "a mechanism, not a policy" – though failed to expound on what he meant.
Pence refused to confirm on CNN's State of the Union that a Trump would expel the 11 million immigrants who are in the country illegally, a critical stance which helped Trump beat his primary opponents.
Conway insisted Trump no longer favours the forced removal of illegal immigrants. "He is not talking about a deportation force, but he is talking about being fair and humane," she said. Trump has vowed to clarify all in his new immigration speech.