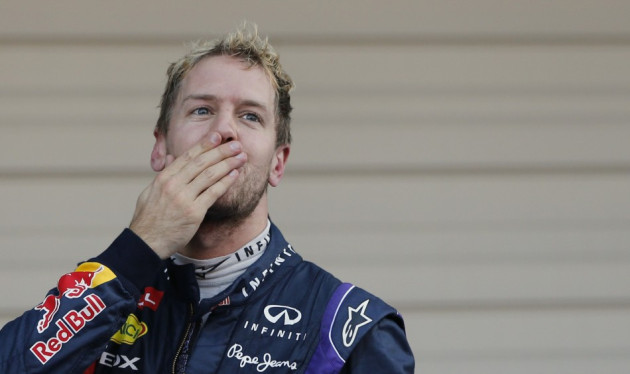 Sebastian Vettel took a huge stride in securing his fourth world title after winning the Japanese Grand Prix ahead of Red Bull teammate Mark Webber.
However, Fernando Alonso's fourth place finish in Suzuka means that Vettel's celebrations have been put on hold for at least two weeks, where his 90 point lead over the Ferrari driver with only 100 available should see him seal it in India.
Vettel sealed his fifth victory in row after coming out on top of an enthralling three way battle between Webber and Lotus' Romain Grosjean, who swapped leads for the duration of the race.
Red Bull's strategic battle that saw Vettel make two stops and his teammate three eventually saw the Frenchman outfoxed and slip to third as Webber, due to retire from Formula 1 at the end of the season, took second after qualifying in first position on Saturday.
Vettel narrowly avoided wing damage on the first corner after being clipped by Lewis Hamilton, a clash that punctured the tyre of the Mercedes driver forcing him into retirement.
In order for Vettel to take the championship in Japan, Alonso would have to have finished outside the top eight. But despite qualifying down at eighth, the Spaniard ensured that the championship leader must wait until India in two weeks' time after finishing fourth ahead of Kimi Raikkonen in fifth and Nico Hulkenberg in sixth.
"I'm blown away by today's race," Vettel said after his win. "I had a very poor start, I clipped my front wing and Lewis had a puncture, but after that I looked after the tyres and had incredible pace, so, overall fantastic. I'm overwhelmed.
"I've won here four times now, which is incredible. As for the Championship we have a good gap, so we'll still keep pushing. It looks good at this stage, but it's not over until it's over.
Vettel will need a top five finish in India to ensure another title, but the German will also seal it should Alonso score no more than 10 points more than him.