Red Bull Racing has revealed the RB8, which it hopes will take drivers Sebastian Vettel and Mark Webber to victory in the 2012 Formula One season.
Unveiled on the Red Bull Racing website, the RB8 features the controversial stepped nose, as seen on every announce car so far, apart from the McLaren MP4-27.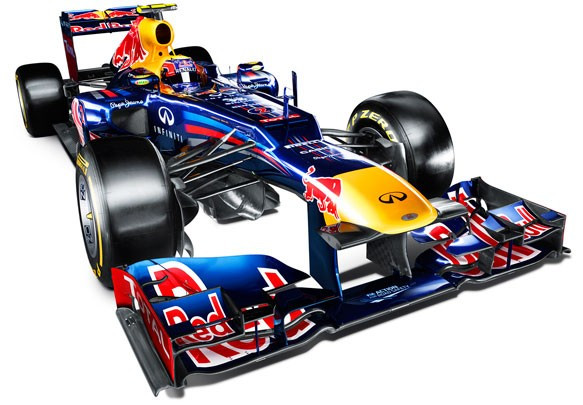 Ferrari, Lotus, Caterham, Sauber and now Red Bull all use the stepped nose design, which is the result of a rule change which forces teams to use a lower nose than previous years, in an attempt to increase driver safety in the event of a side-on collision.
The RB8 was announced on Red Bull Racing's website at 1pm on 6 February but, after much publicity from the team's various Twitter accounts, the website slowed to a crawl as fans eagerly awaited to see the new car.
Red Bull Racing head into the 2012 season as the reigning drivers' and constructors' champions, after dominating both championships in 2011.
Chief technical officer Adrian Newey believes that, while last year's car dominated with its clever exhaust system, regulation changes banning such a design may affect Red Bull more than the competition.
"We designed the RB7, last year's car, around that exhaust position and were probably the only people to do so, so it may be that we've lost more than other people through that. Only time will tell, it will be good to get out to do some testing and to see where we get to," Newey said.

The first test session of the 2012 season begins at the Jerez circuit in Spain on 6 February, before the first race of the season takes place at Melbourne Park, Australia on 18 March.
Newey adds that the new nose height regulations - which have led many teams to use a 'stepped nose' - has not changed the shape of the Red Bull's chassis much at all. He said: "We've kept more or less the same chassis shape, but had to drop the nose just in front of the front bulkhead, which, in common with many other teams, has led us to what I'd probably say [is] a slightly ugly looking nose."
Sebastian Vettel will start the 2012 season look for his third consecutive drivers' title, after becoming the youngest double world champion last year.
The number two driver Mark Webber will be hoping to turn his career around in 2012, after his 2011 campaign saw him fail to match Vettel's phenomenal pace.
Webber admits that "last year wasn't an amazing season, but it wasn't too bad for me. I still managed to finish third in the Drivers' Championship, not far off second with Jenson [Button] there."
The Australian driver added: "I'm very excited about driving the car for the first time, it's a huge amount of work that has gone into it as always with a new car."
After the RB8 was announced, Vettel sounded incredible confident in the team and himself, saying: "Obviously, we had a great year [last year]...so the target is to obviously try to do it again and try to get everything out of ourselves, so we'll see how we get on with the new car, the RB8."
Vettle famously gives his cars nicknames, and over the years names have included Kinky Kylie and Luscious Liz. As for the RB8, "we have a couple of candidates, hot candidates, but nothing is decided yet."