Ferrari continued their dominant form from the 2013 Formula 1 Chinese Grand Prix last weekend, with Felipe Massa leading team mate Fernando Alonso after the first practice session for the Bahrain Grand Prix.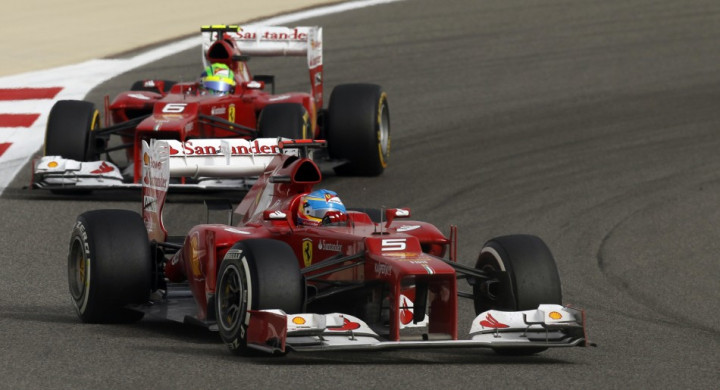 The Brazilian, a two-time winner at the Bahrain International Circuit, set in the desert region of Sakhir, posted a time of 1:34.487. Alonso, the winner at Shanghai in the last race, was less than a tenth of a second behind, with 1:34.564. The two were comfortably ahead of Mercedes' Nico Rosberg and Red Bull Racing's Sebastian Vettel. Force India's Paul di Resta rounded out the top five, with 1:34.949.
Weather conditions at Sakhir were as hot as expected, with the track temperature at the start of the 90-minute session (it began at 7.45am BST) a scorching 37C. There was some concern over tyre wear as well, after Italian manufacturer Pirelli's soft compound failed to perform in China; the exception was for Ferrari, whose car managed the wear much better than others.
The track at Sakhir is relatively smooth but tyre wear does become an issue for two reasons - the desert sand that gets blown across the track and braking loads generated at critical points of the lap, where cars slow from over 300km/h to under 100km/h.
Times and results after the first practice session rarely offer concrete indications of how the weekend will run but initial reports suggest the Pirelli rubbers are responding better; the company was scheduled to bring the same compounds the teams used in China (soft and medium) but later switched to medium and hard tyres. Massa's fastest time was set using the hard compound tyres.
Disappointing Red Bulls and McLarens
Meanwhile, both Red Bull and McLaren will know they have work to do to catch Ferrari and Mercedes. The latter two were strong at Shanghai and initial times suggest they will once again be the sides to beat.
Vettel's fourth fastest time was 0.303s off the Ferraris and the highest McLaren driver - Jenson Button - was sixth and over half a second off the pace. Mark Webber, Vettel's team mate, was seventh and Sergio Perez, in the second McLaren, was 11th.
Webber will be particularly concerned because he faces a three-place grid penalty for this race, after causing a collision in the last race.
READ: Formula 1 Bahrain GP 2013: Kimi Raikkonen Leads Red Bull and Ferrari after Friday Practice