The 2013 Formula 1 Canadian Grand Prix continues on Saturday 8 June, with the third practice session set to start at 3pm BST. This will be followed by the usual 60-minute qualifying period, with the race scheduled for Sunday.
Force India's Paul di Resta and Ferrari's Fernando Alonso topped the sheets after the first and second practice sessions, on a rain-affected Friday. Defending world champion Sebastian Vettel and his Red Bull Racing-Renault maintained a tradition of quiet Fridays, with a best of only 1:15.280 for seventh place. Lotus-Renault's Kimi Raikkonen, second in the world championship standings, was similarly off-colour, with a best of 1:15.599 in the dry.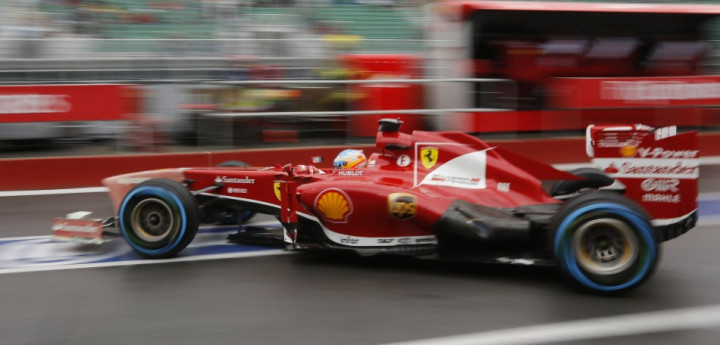 The Mercedes works team, came to Canada on the back of controversy surrounding a potentially illegal private in-season test with tyre developers Pirelli. They would have hoped to put off-track trauma to one side and continue the form Nico Rosberg displayed at Monaco in the last race. The German is a bit off the pace so far but his team mate, Lewis Hamilton, appears in good form.
Where to Watch Third Practice Live
Live coverage of the third and final practice session for the 2013 Formula 1 Canadian Grand Prix starts at 2.45pm BST on Sky Sports F1 and at 2.55pm BST on BBC2 London.
READ: Formula 1 Canadian GP 2013: Mark Webber Fastest in Shortened Final Practice
Live coverage of qualifying for the 2013 Formula 1 Canadian Grand Prix starts at 5pm BST on Sky Sports F1 and BBC1 London. Live coverage is also available on BBC Sport Interactive Freeview 1 and 1 HD from 5.50pm BST.
READ: Formula 1 Canadian GP 2013: Sebastian Vettel Grabs Pole in Wet and Messy Qualifying Session
Real time internet updates for both sessions are available on the Live Timing section of the sport's official website.
Friday Practice Review
The Circuit Gilles-Villeneuve has stayed true to its reputation, so far, for unpredictable weather conditions. Friday's first session saw rain prior to the start of the 90-minute period, which left standing water puddles at several spots along the 4.361km track. Drivers were forced to switch to intermediate tyres to maintain traction and it wasn't till the final few minutes of the session that we saw quick times from the teams. Even then, though, the fastest time was only 1:21.020 - Force India's Paul di Resta set that time right at the death.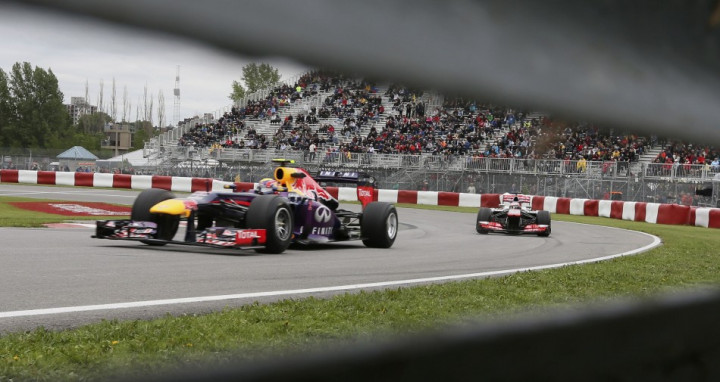 The conditions meant it was a relatively unfamiliar line-up at the top of the timesheets, with McLaren's Jenson Button enjoying a rare moment at the sharp end of the grid. Raikkonen's team mate, Romain Grosjean, was third and it wasn't till fourth position that the first of the more traditional front runners made an appearance.
READ: Formula 1 Canadian GP 2013: Force India's Paul di Resta Leads after Wet First Practice Session
Alonso clocked 1:21.308 in his Ferrari and would have been pleased to note a sizeable advantage over his championship rivals in damp conditions. Raikkonen was fifth but 0.300s behind and Vettel seemed to struggle to 1:23.047. However, the Red Bull may have been conserving pace and tyres for qualifying and the race and, in any case, do not usually show their hand on a Friday.
The rest of the grid was a mixed bag, with Toro Rosso up there as well; Daniel Ricciardo ran 1:22.068 for a top ten place. Rosberg was seventh, Button's team mate, Sergio Perez, was eighth and Vettel and Mark Webber rounded out the top ten.
The second session was almost entirely dry, with only a few spots of rain towards the end. Alonso and Ferrari took advantage of the track drying up to post a session-fastest 1:14.808. The Spaniard had a poor race at Monaco and will be eager to make up for that disappointment. Ferrari generally have had more race pace than qualifying speed this season but that may not be a problem in Canada.
Unlike the 2012 race, there are two DRS zones this year, centred around the hair turn in the final sector of the lap and in the run-up to the final chicane. Overtaking is distinctly possible on this track, which will boost the Italian team's chances.
Alonso was not alone at the top though, with Hamilton only 0.012s off his pace. The British driver is the defending champion at this particular race and will be keen to kick-start his 2013 campaign with a first win.
READ: Formula 1 Canadian GP 2013: Ferrari and Fernando Alonso Fastest in Second Practice
Meanwhile, Grosjean could be the dark horse this weekend. His Lotus was third in both sessions, indicating he has speed in dry, wet and changing conditions. Webber outpaced Vettel in the second session, with Rosberg and Felipe Massa in a Red Bull sandwich. Force India and McLaren dropped to the fringe of the top ten in the dry, with Adrian Sutil leading Button.
Pirelli Tyres
The Italian tyre manufacturer has brought an experimental medium compound to this race weekend. The first session saw limited running on anything but intermediates, meaning little, if any, data was gathered. The second saw considerably more kilometres on the unmarked tyres.
These will not be used for the rest of the weekend, leaving the pre-designated P Zero White (medium) and P Zero Red (supersoft) as the tyres on offer for qualifying and the race. Of course, the Cinurato Green (intermediate) and Cinturato Blue (wet) rubbers are also available.
Weather Updates
The final practice session starts at 10am local time. Weather forecasts call for cloudy skies and rainfall, meaning conditions are likely to be similar to those on Friday morning. Expect maximum temperatures of 13C and humidity in excess of 90%. Wind speeds will also be high, with a 23km/h north-north-easterly flow expected.
The bad news is the weather is not likely to clear up in time for the second session (qualifying) as it did on Friday. In fact, rain is forecast throughout the day, with cloudy skies, cold temperatures and mist at night. Wind speeds may drop a little as the day progresses but that is likely to be little comfort to the teams. The good news is clearer skies are expected for the race on Sunday.