Sebastian Vettel is on pole position for the 2013 Formula 1 Canadian Grand Prix. The defending world champion posted 1:25.425 in an incident-filled and thoroughly exciting hour-long session.
Mercedes' Lewis Hamilton appeared on course to steal pole with the final lap of the session but locked up on entry into the final chicane and was forced to settle for second with 1:25.512. His team mate, Nico Rosberg failed to make a hat-trick of pole position starts this season. The German was on pole in Monaco and Spain but could only manage 1:26.008 to place fourth.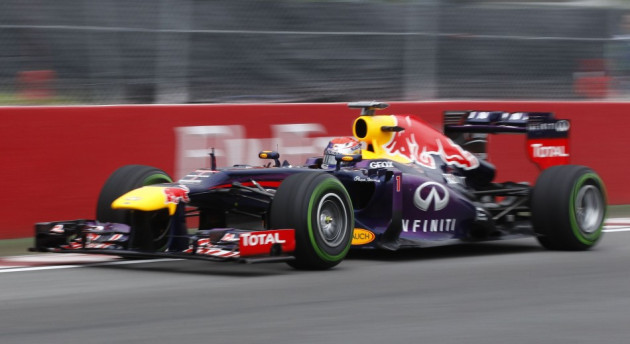 The big surprise of the session though was Williams' Valtteri Bottas. The Finn snuck through to Q3 after a superb 1:28.419 in the earlier section. And the 23-year-old continued in a similar groove, able to find grip where a number of other drivers could not, to qualify third with 1:25.897. It was, by very far, his best qualifying performance of the season; his previous best was 14th at Monaco.
Mark Webber, will start fifth but, perhaps crucially, will be ahead of his team mate's championship rival, Fernando Alonso. Ferrari had a subdued qualifying session, with a big accident to Felipe Massa, in Q2, bringing out the red flag temporarily. The Brazilian will start 16th or possibly even from the pit lane, depending on the team's strategy for the race. Either way, the Ferrari No 2 was visibly upset after misjudging braking points on the run up to the third corner.
Jean-Eric Vergne, Adrian Sutil, Kimi Raikkonen and Daniel Ricciardo rounded out the top ten. The big names missing from the final session of qualifying were the two McLarens. Jenson Button will feel he could have made it into Q3 but will also know he has only himself to blame. The former world champion miscalculated the amount of time available to him after the re-start in Q2 and wound up unable to post a fast time.
Further down the grid, there was disappointment for Paul di Resta. The British driver was eager to make up for a team error that cost him a good qualifying place in Monaco two weeks ago. Unfortunately for him, his race engineers let him down again, opting to run with a slight gearbox issue in the final laps of Q1 and costing their driver valuable seconds.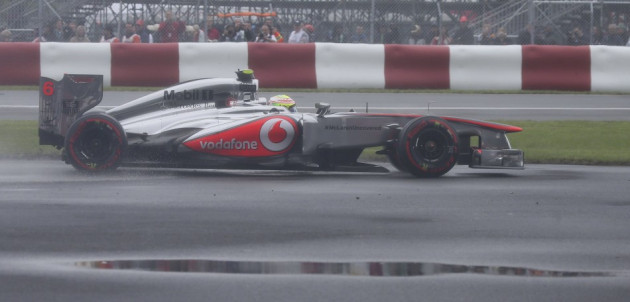 Raikkonen's Lotus-Renault team mate, Romain Grosjean, could only manage 19th, with a best of 1:25.716. The Frenchman will also receive a 10-place grid penalty (for infractions during the Monaco Grand Prix), meaning he will start last.
The qualifying period was marked by changing weather conditions and fluctuating lap times. Vettel's time in Q1, for example, was 1:22.318. However, rain between Q1 and Q2 dropped lap times by almost seven seconds! The German's best in the second period was only 1:28.166.
Initial forecasts called for rain during the session but the track remained reasonably dry at first, prompting early runners to do banker laps on the supersofts. However, a spin by Marussia's Jules Bianchi at the hairpin was evidence intermediates were the way to go. And so it proved, with the Red Bull and Mercedes drivers pushing P1 boundaries in the final minutes. Alonso posted 1:23.224 to go into the break in second, behind Vettel.
Light rains heralded the start of Q2 and the racing line from Q1 disappeared rapidly. Intermediate tyres remained on all of the cars and as the rain increased, McLaren reported they were considering going to full wet weather rubbers. Vettel and Alonso both had minor offs during this time, as grip and traction was suddenly at a premium. Massa's accident, with 1:59 left on the clock, made for a mad dash for the top 10 and a place in Q3.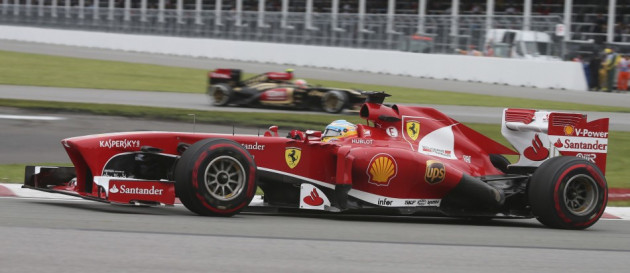 Q3 was as much a mad dash as well, with drivers jostling for track position coming out of the pit lane. Raikkonen shoved his way past Webber but it was Vettel who set the first benchmark and despite the best efforts of the rest of the grid, that time remained.
The race is scheduled for 2pm local time (7pm BST) on Sunday afternoon. Weather conditions are expected to clear up drastically and we should be in for a dry race. However, if it does rain, then the fact that a number of drivers have already burned through large sections of their allotted intermediate tyres should make life difficult for them... and entertaining for us.
For the full timesheet for qualifying for the 2013 Formula 1 Canadian Grand Prix, click here.