Formula One president Bernie Ecclestone is confident the 2013 Formula 1 Bahrain Grand Prix will be held as planned. Teams and drivers are scheduled to race at the Sakhir Circuit in the Gulf state between 19 April and 21 April before moving to the Circuit de Cataluña in Spain, for the first European leg.
The 2011 Bahrain race was disrupted and then cancelled after Shi'ite protests in the Gulf state threatened the safety of the drivers, the teams and the spectators. The race was then to be held in early March but the death of more than 30 pro-democracy protestors forced the organisers to reconsider the schedule. An attempt was made to race again in October but that too proved a failure.
The Bahrain Grand Prix was subject to controversy in 2012 as well, with members of the Sahara Force India and Sauber teams attacked over the race weekend; in fact, Force India withdrew from the final practice session on Friday citing safety concerns.
However, the 2012 event did, eventually, take place, with Red Bull Racing driver Sebastian Vettel storming to pole position and the race win. And now Ecclestone has confirmed Vettel will have the chance to defend his race win.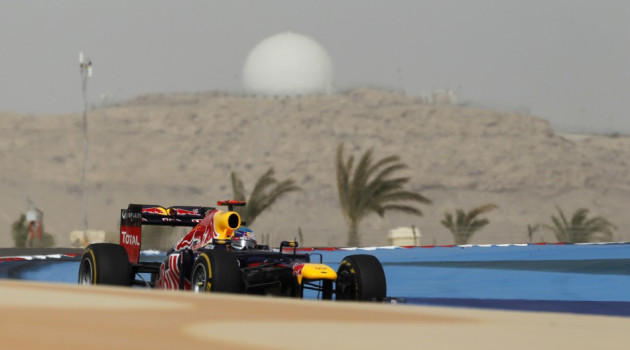 "I haven't had any negative reports from anybody there," the 82-year-old businessman said, adding, "Somebody who actually lives there came to see me yesterday and said everything's very normal. I think they are talking now anyway so I don't think they'll upset the talks by making protests. It didn't help them last year, so if they had any brains they'd just get on with their talks."
Sports Standings
Meanwhile, there is still the matter of the Chinese Grand Prix to settle before Red Bull, Ferrari and the rest of the grid worry about Bahrain. Teams are scheduled to begin Friday practice sessions, at the Shanghai International Circuit on 12 April at 3am BST, with the race scheduled for Sunday, 14 April.
Defending champion Vettel will take a nine-point lead, over Lotus-Renault's Kimi Raikkonen, to China, after the duo traded wins in the opening two rounds in Australia and Malaysia.