Kimi Raikkonen topped the timesheets after the second practice session at Sakhir, for the 2013 Formula 1 Bahrain Grand Prix. The first session finished earlier in the day, with Ferrari's Felipe Massa leading his team mate, Fernando Alonso, in a comfortable 1-2 ahead of the Mercedes' of Nico Rosberg and the Red Bull of Sebastian Vettel.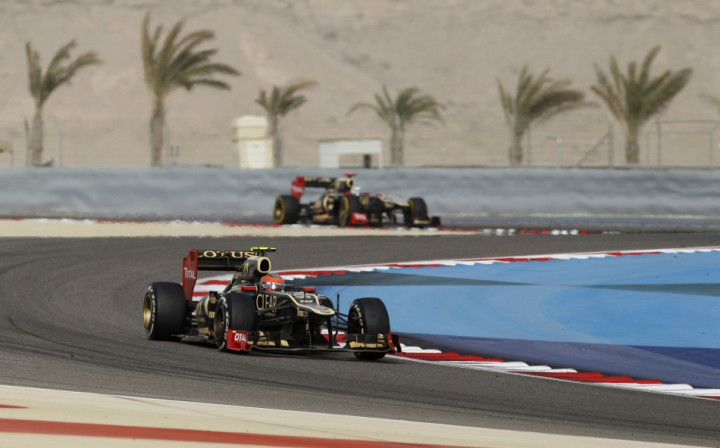 In the afternoon session, the Finn posted 1:34.154 to lead the way from the Red Bull's Mark Webber and Vettel. Alonso was fourth but the margin between the top drivers was almost negligible, with the Spaniard's 1:34.310 only 0.156s off the pace.
The surprise of the day, however, was Force India's Paul di Resta. The British driver maintained his fifth fastest position at the close of the second session, improving from 1:34.949 in the morning to 1:34.543 in the afternoon.
Massa will likely be disappointed with his second session; the Brazilian was actually slower than his morning time, despite shifting to the Option tyres (the medium compound).
Lotus' Romain Grosjean, Rosberg and Force India's Adrian Sutil were seventh, eighth, rounding out a good season for the latter team. Lewis Hamilton was left at the tail end of the top ten, with his 1:34.976 nearly a second off the pace.
The only consolation for the 2009 champion would have been that he was faster than Jenson Button in his former team, McLaren-Mercedes. Button, the 2008 world champion, was nearly four-tenths slower than Hamilton.
Weather
The weather was as expected through most of Friday - hot. Track temperatures at the start of the second session were upwards of 30C. A few drops of rain did fall in between the two sessions and that may have contributed to the slight drop.
However, no such rainfall is forecast for tomorrow. Wind speeds may be a problem though. A number of drivers were caught out by wind blowing across certain sections of the track and this is likely something they will have to consider for qualifying on Saturday.
The 2013 Bahrain Grand Prix runs its third and final practice session on Saturday morning, with the pit lane set to go green at 9am BST. The qualifying session will start three hours later.
READ: Formula 1 Bahrain GP 2013: Massa Leads Ferrari 1-2 after First Practice