Formula 1 Hungarian GP 2013: Where to Watch Race Live and Weather Updates
Mercedes' Lewis Hamilton starts on pole with Sebastian Vettel second, Fernando Alonso fourth and Kimi Raikkonen sixth
Lewis Hamilton starts the 2013 Formula 1 Hungarian Grand Prix from pole position, after the 2008 world champion beat defending world champion Sebastian Vettel to the top of the timesheet. The Mercedes driver posted 1:19.388 to finish a narrow 0.038s ahead of the Red Bull ace, with Lotus' Romain Grosjean third on 1:19.595.
UPDATE: Formula 1 Hungarian GP: Lewis Hamilton Beats Sebastian Vettel to Win at Hungaroring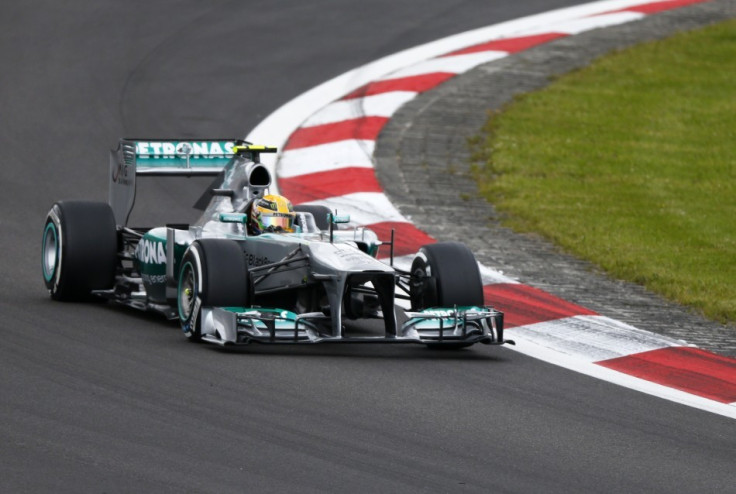 This is Hamilton's third straight pole, following top-of-the-grid starts at Silverstone and the Nürburgring. The pole also means seven of 10 races so far this season have gone to Mercedes drivers, with Nico Rosberg qualifying fastest at Bahrain, Cataluña and Monaco.
However, Mercedes have won only two races so far this season (at Monaco and Silverstone), meaning Vettel will start favourite to take the chequered flag after 70 laps of the 4.381km Hungaroring circuit on Sunday.
Vettel's immediate championship rivals Fernando Alonso of Ferrari and Kimi Raikkonen of Lotus will start fifth and sixth, with Grosjean and Rosberg between them and the German.
Where to Watch 2013 Formula 1 Hungarian Grand Prix Live
Live coverage of the 2013 Formula 1 German Grand Prix starts at 11.30am BST on Sky Sports F1.
Radio commentary is on BBC Radio 5 Live and starts at 1pm BST.
Real time Internet updates are available from the Live Timing section of the sport's official website.
Qualifying Review
Vettel began qualifying with fastest times from both of Friday's sessions. The German was backed on each occasion by his team-mate, Mark Webber. The big debate going into qualifying surrounded Mercedes.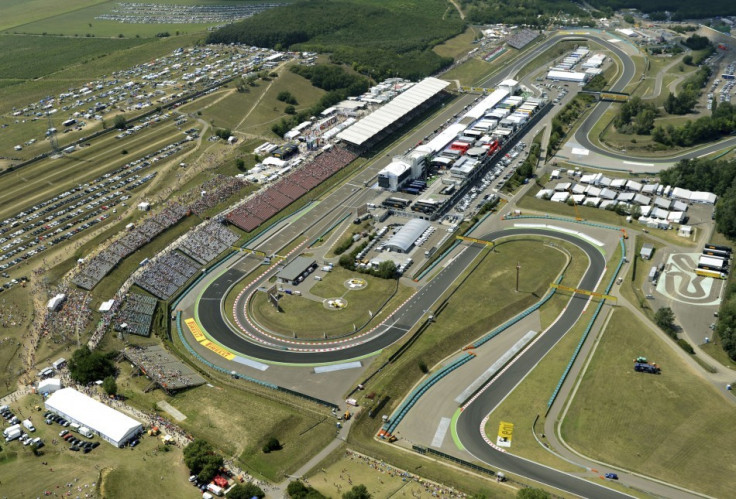 The German works team appeared to struggle through practice sessions, after changes in the Pirelli tyres caught them flat-footed. The Italian tyre manufacturers announced a new rubber mix for the rest of the season, as a result of multiple tyre failures at Silverstone earlier this season. The new tyres (which included the Kevlar belt from the 2012-specs, for additional support) debuted in the UK during the young drivers' test. However, Mercedes were banned from the test after the FIA found them guilty of rule violations in earlier test sessions.
READ: Formula 1 Hungarian GP 2013: Vettel and Webber Control Pace at Hungaroring
Basically, neither Nico Rosberg nor Hamilton ran the new tyres before this weekend. Practice times suggested this could be a problem, with the latter's 1:21.158 on Saturday morning the fastest they managed all weekend long. By contrast, Grosjean posted 1:20.730 to top the timesheets ahead of qualifying.
And given neither Lotus nor Ferrari has really challenged for pole this season (the best was Kimi Raikkonen's second place in China) Vettel was expected to have a clear run to a front-row start.
READ: Formula 1 Hungarian GP 2013: Vettel and Webber Keep Red Bull on Top
However, Mercedes found form when it mattered, with Hamilton and Rosberg faster than Vettel in Q1; 1:20.363 and 1:20.350 to 1:20.646. In fact, the times were surprisingly close, with Raikkonen posting 1:20.867 and Alonso 1:20.652.
The big disappointment from the opening third of the hour was Force India's Paul di Resta. The team had struggled through the practice sessions, with neither di Resta nor Adrian Sutil able to beat the McLarens. And that continued through into qualifying, with di Resta only managing 1:22.043 for 18th on the grid. Sutil was a little better; the German made it to Q2 and will start 11th after 1:20.569. The second third of qualifying also claimed Button, who managed only 1:20.777.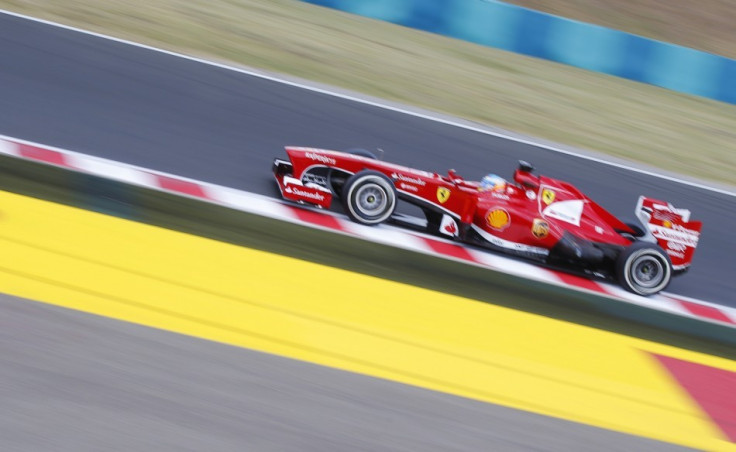 Q3 began with Vettel and Hamilton on top. The German's first lap was 1:19.506 and Hamilton's was 1:20.324. The Brit's second run proved considerably faster and Vettel could only respond to take second.
READ: Formula 1 Hungarian GP 2013: Lewis Hamilton Steals Pole from Sebastian Vettel
Weather Update
Expect a very hot Sunday afternoon with air temperatures once again touching the 40C mark. Track temperatures will be several degrees higher; it touched a sweltering 49C during qualifying. Cloud cover has increased marginally over the weekend but will still be at a minimum.
The one major change from Friday and Saturday is higher wind speed, with a direct southern breeze expected to touch 18km/h during the race. Teams and drivers will welcome the development for it has been a very physically demanding weekend so far.
A southern wind means it will blow across the start/finish straight and also act as a headwind for cars through the second sector: the tight and twisty outfield. It also means there could be some dust blown across the track, particularly in the third sector which has a short straight connecting Turn 11 and the beginning of the stadium section.
© Copyright IBTimes 2023. All rights reserved.