Mercedes' Lewis Hamilton eased to a comfortable win at the 2013 Formula 1 Hungarian Grand Prix. The 2008 world champion started the race from pole position and beat Lotus-Renault's Kimi Raikkonen and defending world champion Sebastian Vettel of Red Bull to the chequered flag.
Red Bull's second driver, Mark Webber, came in fourth after a fantastic drive from 10th on the grid. The veteran Australian, who is in his final season in Formula 1, suffered a double blow in qualifying on Saturday, after electrical problems hit his gearbox and the Kinetic Energy Recovery System (KERS).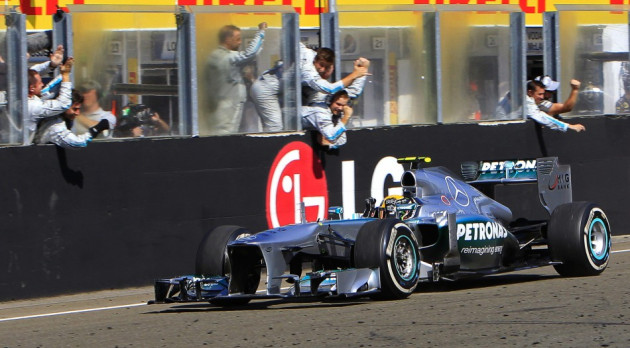 Nevertheless, he made up for that with an excellent start, moving up three places inside the first five laps. And the fact his car was running Pirelli's medium compound tyres gave him an edge over immediate rivals; Vettel, for example, was running the softer compounds and was forced to pit after nine laps. By contrast, Webber ran a superb first stint making his first stop only on Lap 24.
The Australian made another excellent decision - to remain on the medium compounds - which allowed him to retain a higher track position and synchronise his pit schedules with the race leaders.
Meanwhile, Felipe Massa's race was compromised slightly after an early incident with Nico Rosberg. The Brazilian carried front wing damage on his Ferrari into his first pit stop. Rosberg was the more unfortunate driver though; the German had a horrible opening lap and dropped from fourth all the way to 12th.
At the head of the field though, Hamilton and Vettel were pulling away from everybody else rather comfortably, with Romain Grosjean only just keeping them in his sights. Hamilton was the first of the front runners to pit, coming in for medium tyres (he started on soft) on Lap 10. Vettel came in two laps later and also switched to the medium compounds.
However, whether the entry/exit laps were slower or there was a delay in the pit lane, Vettel came out behind Hamilton - a pivotal moment in the race.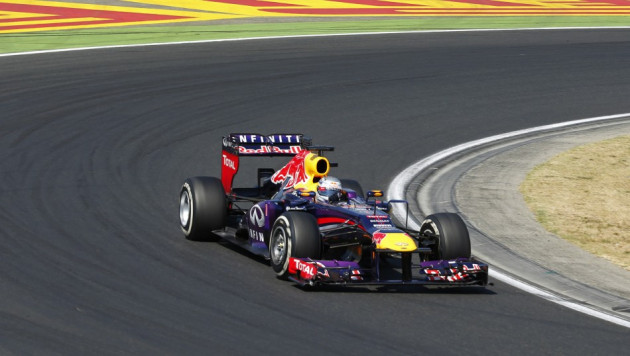 Ferrari championship contender Alonso was running a rather lonesome race all the while and he came in for a first stop on Lap 13. The Spaniard started fifth and would finish fifth as well, making for an acceptable if not good weekend.
There was another important moment on Lap 15, when Vettel found himself stuck behind Jenson Button's McLaren, allowing Grosjean to close in and forcing Red Bull to warn Vettel to control his pace. And in the ensuing dogfight with Button and Grosjean (and Alonso too by this time) the world champion damaged his bodywork.
By Lap 24 Vettel finally found his way past Button and set off on a series of fast laps. But the damage was more or less done, with Hamilton a considerable way down the road. The race leader came back into the pits on Lap 32 for another set of mediums and came out with in an imperious mood, attacking and passing Webber and Alonso for P3 and P2 respectively.
Two laps later both Vettel and Alonso made their second stops (on mediums) and the race was now about endurance, with all the frontrunners told to look after their tyres.
There was an incident on Lap 45, when Valtteri Bottas' Williams stopped off the main straight with flames from the car's rear. A temporary yellow flag was waved and it took a couple of laps to clear.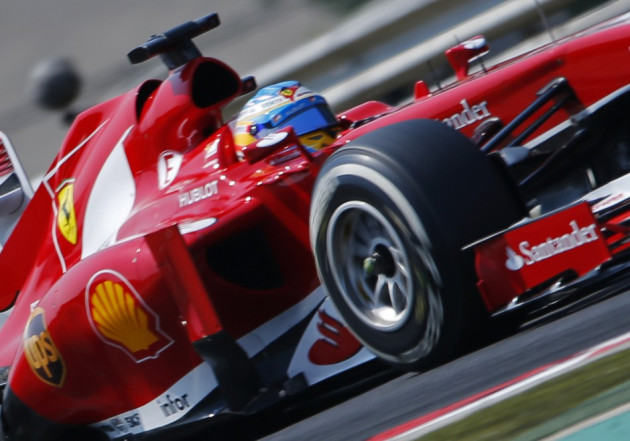 By Lap 50 both Ferraris and Rosberg had made another round of pit stops but the crucial one was on the following lap. Mercedes produced a flawless stop for Hamilton, turning him around in 3.2s. Vettel came in the lap after that but by this time Hamilton was well in control of the race.
For a full timesheet and race details, click here.
Championship Standings
The win marks the 28-year-old British driver's first win of the season and moves him to 124 points in the championship table, catapulting him straight into the title fight between Ferrari's Fernando Alonso, Raikkonen and Vettel.
Vettel still leads with 172 points. Raikkonen moves into second though with 134 points to Alonso's 133 and Hamilton is now fourth on 124 points. Webber retains fifth place with 105 points.
In the race for the constructors' title, 2012 world champions Red Bull extend an already dominant lead; the Milton Keynes outfit now have 277 points to Mercedes' 208. Ferrari remain just ahead of Lotus with 194 to 183 and Force India, despite a disappointing race, retain fifth ahead of McLaren.
Next Race
The 2013 world championship now enters the mid-season break, with the next race scheduled at the Spa-Francorchamps in Belgium, on 25 August; the race weekend starts on 23 August. Stay with IBTimes UK for up to date coverage on all the sessions!