F1 German Grand Prix 2012: Teams Wary of Changeable Weather, Where to Watch Qualifying Live from Hockenheim
A tumultuous two Free Practice sessions on Friday briefly saw the McLarens of Lewis Hamilton and Jenson Button on top before rain in the second session caught everyone off guard, allowing William's Pastor Maldonado to top the timesheets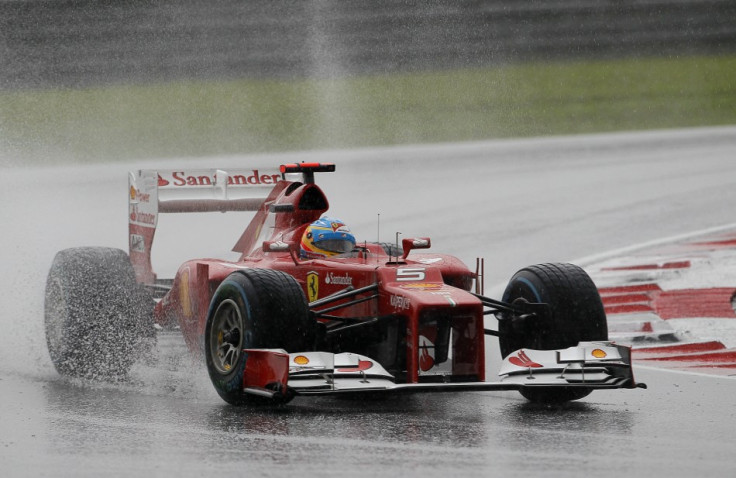 A tumultuous two Free Practice sessions on Friday briefly saw the McLarens of Lewis Hamilton and Jenson Button storm to the top of the timesheets on the back of "significant upgrades" before Williams' Pastor Maldonado and hometown boy Nico Rosberg, in his Mercedes, spoiled the British team's party.
Saturday, the second day of the three-day race weekend, will see the final Free Practice session in the morning before the teams and drivers line up for the all important qualifying session for Sunday's race. the German Grand Prix will be followed, swiftly, by the Hungarian Grand Prix next weekend, meaning that this set of back-to-back races could be critical in determining the outcome of the 2012 Formula 1 drivers' and constructor's world titles. McLaren have had a poor season so far, while rivals Ferrari have been steadily improving and, in Fernando Alonso, have a driver who can push a recalcitrant car to its absolute limit. Martin Whitmarsh, McLaren team principal, will have to hope the upgrades for the MP4-27 can help his drivers reign in Alonso and the Red Bulls at the top of the field before it is too late.
Meanwhile, Red Bull continue to be the team to beat and will be confident of a strong showing, particularly since the Hockenheimring favours a car with good top speed. Additionally, the fact both Vettel and Mark Webber turned around poor showings in the first session on Friday should mean they are now a bit more in the groove for the weekend.
Friday Free Practice Round-Up
The rain gods continued to dog Formula 1's footsteps, transferring their attentions from Silverstone two weeks ago to the Hockenheimring in Germany. The first session started off pleasingly dry, allowing Button a chance to set an early marker, before the heavens opened up and pretty much ended anybody else's chance of catching the 2009 world champion. Hamilton eventually wound up the effective leader of the second (and wet) half of the session, meaning it was an encouraging start for the McLarens - their cars were fastest both in the dry and the wet. Behind the two, Ferrari's Fernando Alonso and a steadily improving Michael Schumacher in the second Mercedes finished third and fourth, while Sauber's Sergio Perez added to his growing reputation and did his links with a Ferrari drive for next season no harm by finishing fifth.
For a full timesheet for the first Free Practice (FP1) session, click here.
The second session was once again a bit of a lottery, with the weather swinging from wet to relatively dry and back to wet in a 90-minute window. The winner this time was Williams' Venezuelan star Pastor Maldonado, who lapped in 1:27.476 to finish ahead of Rosberg and Red Bull's Sebastian Vettel. It took some time for drivers to head out on track at the start of the second session but once they did and the session entered it's relatively dry phase, the times began tumbling. Eventually, Perez put in another excellent shift for Sauber, finishing fourth and 0.926s behind Maldonado and Lotus' Romain Grosjean marked his fifth place with a 1:28.420.
For a full timesheet for the second Free Practice (FP2) session, click here.
Saturday Practice Preview
The most important piece of news - there will almost certainly be more rainfall but, if the forecasts are correct, the showers should hold off until the day's action is complete. The Weather Channel indicates there is a 20 percent chance of precipitation between 11 am and 3 pm (local time); that rises to 80 percent after 4pm, which is when qualifying is scheduled to end. Temperatures are likely to remain in the high teens, with a maximum of 19 degrees Celsius around 3 pm.
All this means that those teams who have reported trouble in getting their tyres up to operating temperature (McLaren, step forward please) will continue to have similar issues to deal with. During the British Grand Prix both Hamilton and Button complained of cold Pirelli tyres and that concern was raised, for the German Grand Prix, by Whitmarsh.
The updates that the McLarens brought to Germany have been largely positive, as Button explained to Formula1.com, meaning that the Woking-based team can be cautiously confident going into qualifying and the race itself.
"We have done a lot of stuff in the wind tunnel and that seemed to be pretty good and you must also have noticed that it looks slightly different to what we had previously. There are some upgrades, some new bits and pieces here and there - some aerodynamics, some mechanical - today was actually a pretty good day for us. I would guess that we've got more out of the two sessions than most others did. We've been able to collect a bag full of information as it was paramount for us to get our updates working in connection with the tyres. It is still something of a struggle to get them to temperature, but once we do the pace is good. I think we should be happy with most of the new parts that we've put on as they are working correctly, so believe me it is nice to see these improvements," Button explained.
Meanwhile, Lotus driver Kimi Raikkonen has explained he thinks tyres, as well as timing of runs, will be crucial in determining qualifying position, meaning there could be some unexpected faces at the sharp end of the grid by 4 pm local time on Saturday.
"We have seen in Silverstone that when you were out at the right time, with the right tyres you did well. It can be the same tomorrow. So we have to be among those with the right timing and the right tyres," the former Ferrari driver said.
Where to Watch Saturday Practice and Qualifying Live
You can follow the third and final Free Practice session, live, from 9.45 am BST to 11.15 am BST on Sky Sports F1 HD and the qualifying session from 12 pm BST to 2.35 pm BST on the same channel. Highlights will be available on BBC Two and BBC HD from 5 pm BST to 6.10 pm BST. You can also follow action, live, from the Free Practice and Qualifying sessions on the Formula1.com Web site here.
Meanwhile, stay tuned to IBTimes UK's coverage of the 2012 Formula 1 German Grand Prix, as we continue to bring you race previews, driver quotes and tactical analyses, ahead of the weekend's race!
© Copyright IBTimes 2023. All rights reserved.