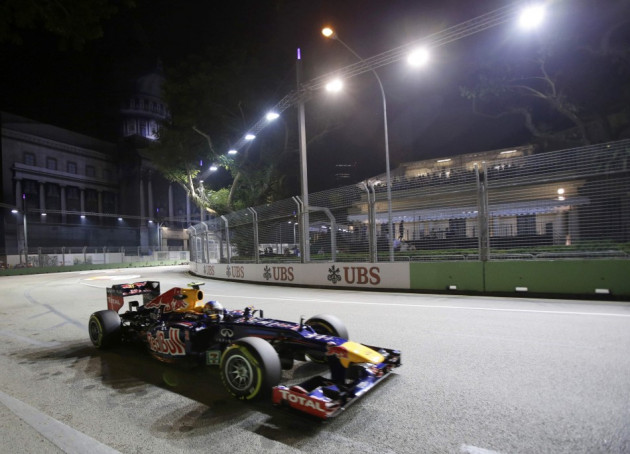 Red Bull Racing's Mark Webber has received a 20s time penalty, to be added to his finish at the 2012 Singapore Grand Prix. The penalty will see the Australian drop out of the points scoring places, pushing him from 10th to 11th. Sauber's Sergio Perez will move the other way, pocketing the final championship point.
The incident for which Webber has been penalised happened when he was fighting the Williams of Kamui Kobayashi. Webber took Turn Seven around the outside of the Williams but overran the kerb and had all four wheels off track when he went past the Japanese. Formula 1 rules declare that as an illegal advantage and stewards investigating the incident after the race were left with no alternative but enforce a penalty. Webber, understandably, was not impressed.
"Notwithstanding that the distance by which car 2 left the circuit was minimal, advantage was gained hence a breach did in fact occur," the stewards said after the race, with the Australian stating: "We were racing pretty hard and fair I think".
The penalty and the subsequent points deduction means Webber now has 132 points and remains fifth in the drivers' championship, while Red Bull have 297 points to McLaren's 261 and Ferrari's 245.
Schumi Penalised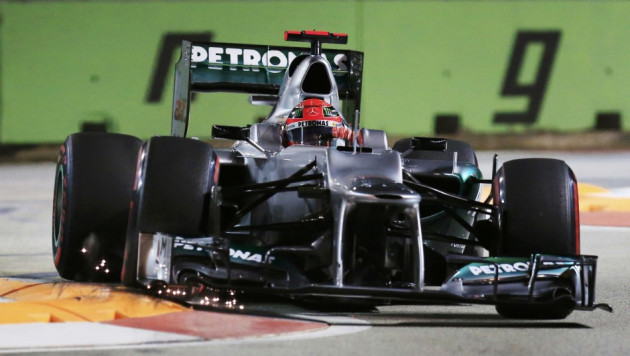 Meanwhile, the unforgiving Marina Bay Street circuit claimed another post-race victim in Mercedes' Michael Schumacher. The seven time former world champion was handed a 10-place grid penalty, applicable after qualifying for the next race - at Japan.
Schumacher was found to have caused a large accident when he misjudged the braking point into one of the corners and hit Toro Rosso's Jean-Eric Vergne, taking both of them out of the race. The German, who crashed out of the Singapore Grand Prix in similar circumstances last year, admitted his fault and accepted his penalty.
"It was obviously a very unfortunate ending to my race when I ran into the car of Vergne who accepted my apology straight afterwards. I am not totally sure why it happened like this; I was braking but the deceleration was not as strong as it usually would be, and I could not avoid running into the car in front of me," Schumacher later explained.
"There is no sense in being angry about it, because these things happen in racing and even the most experienced driver on the grid can make mistakes," a calm Vergne later said, adding, "He said sorry and that's the end of it."
The 2012 Formula 1 World Championship will next race at the Suzuka circuit in Japan on 6 October. there are six rounds left in this season's title race and Alonso leads the drivers' championship by 39 points.