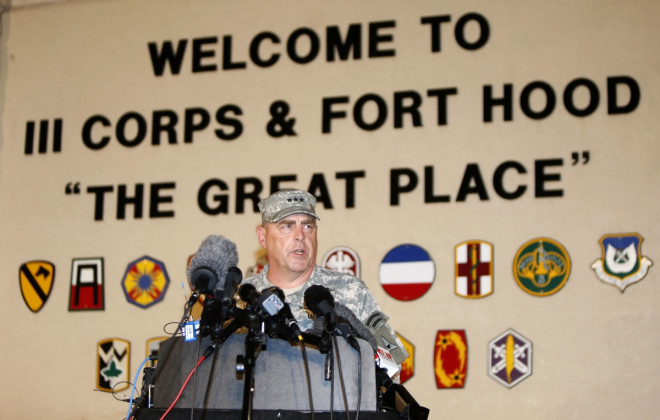 The US military has named soldier Ivan Lopez as the gunman who shot three soldiers dead at the Fort Hood military base.
The 34-year-old Iraq veteran had only moved to the Texas camp - the largest army base in America - in February before he opened fire on three colleagues and shot himself in the head.
He used a recently bought .45-caliber semi-automatic pistol in the April 2 attack, which lasted between 15-20 minutes and injured a further 16 people.
Lopez drove to two buildings on the base at approximately 4pm and opened fire before he was stopped by a female military police officer who drew her gun, prompting the soldier to shoot himslef in the head.
It is thought Lopez, who was assigned to 13th Sustainment Command (Expeditionary) and had a wife and one child, had been examined for Post Traumatic Stress Disorder (PTSD) and was being treated for depression and anxiety.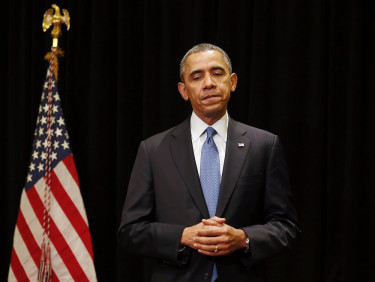 Speaking in Chicago, President Barack Obama said he was "heartbroken" over the attack, while Defence Secretary Chuck Hagel called the shooting a "tragedy".
Family notifications are ongoing and the names of the deceased will not be released until 24 hours after the next of kin have been notified.
Chaplains have set up family counseling centers on and off site to help support those affected by the incident.
Fort Hood - a military city
Located in Killeen, Texas, Fort Hood, or Camp Hood as it was known when it opened in 1942, was transformed from 108,000 acres of rural farmland into the home of the Tank destroyer Tactical and Firing Center.
When the US entered World War Two, almost 95,000 troops lived at the base, which was used to store destroyers ready to be transported to European battlefields.
Eight years after its official opening, Camp Hood became a permanent installation and was renamed Fort Hood, now the largest active duty armored post in the US military.
Split into the main cantonment, West Fort Hood, and North Fort Hood, the base is now home to about 45,000 soldiers as well as approximately 9,000 civillians, who live on or near the site.
It has two airports, combat aviation training areas and a large ground training area and its main area comprises a sprawling network of administrative buildings spread over 15 acres, schools, shops and medical facilities.
The base houses Warrior Transition Brigade, a unit that cares for soldiers who have been physically injured or need psychological assistance. A 2010 Channel 4 report said 10,000 soldiers based there were receiving conselling and 6,000 had been prescribed anti-depressants.
Terrorist attack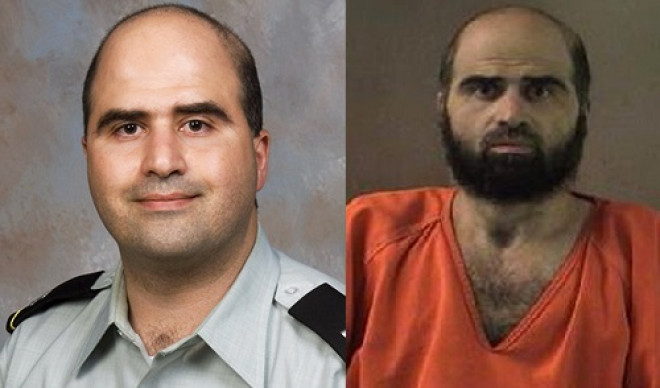 In November 2009 Nidal Malik Hasan fatally shot 13 people and injured more than 30 others in what was described as the worst ever shooting to take place at an American military base.
Armed with two guns, Hasan, a US Army major and psychiatrist, entered Fort Hood and suddenly fired a hail of bullets in the Soldier Readiness Center after shouting "Allahu Akbar!"
Hasan was eventually felled by a gunshot and placed in handcuffs as he became unconscious.
As a result of his injuries, Hasan was paralysed from the waist down but was charged with 13 counts of premeditated murder and 32 counts of attempted murder and setenced to death, becoming only the 6th person on military death row at the time.