Forza 4 is due to be released exclusively for Xbox 360 on October 14, but the IBTimes managed to get some hands-on time with the game set to steal victory from Gran Turismo 5 in the racing sim genre.
For the first time in the game's history, Kinect integration is a feature of Forza 4, with the ability to control the car with hand movements alone; but don't worry, hard core gamers, Kinect helps us too.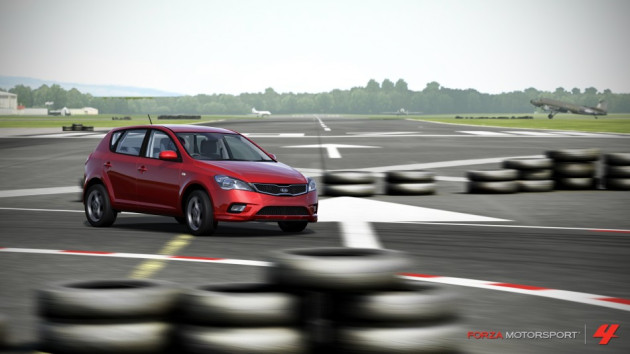 Kinect is featured in Forza 4 in three different ways; firstly it lets car fans get up close and personal with some of the finest machinery in the business. Leaning in closer to the screen zooms in on details of cars, but it must be said that 'Autovista', as this is called, is a bit of a gimmick, even with the vocal car reviews from Jeremy Clarkson included.
In a bid to appeal to the wider market - because, let's face it, racing games can be seen as a bit dull to the masses - gamers with a passing interest in cars can race by moving their hands in a steering action.
Despite looking like a novelty feature, the Kinect system does a good job of reacting quickly and accurately to steering input. Of course this input method means that accelerating, braking and gear changes are all done automatically, but it's simple, fun and means that absolutely anyone can have a go with a proper racing game - and do well, too.
I was driving an underpowered little Fiat, so controlling the car with my hands held aloft wasn't difficult - power sliding a Bugatti Veyron might be a bit tricky - but then that's not the point of Kinect, this part of the game is about accessibility and having fun.
Where Kinect offers something for the seasoned racing gamer is with head tracking. While playing conventionally with a controller, Kinect monitors the player's head and turns the in-game camera from left to right as the player moves.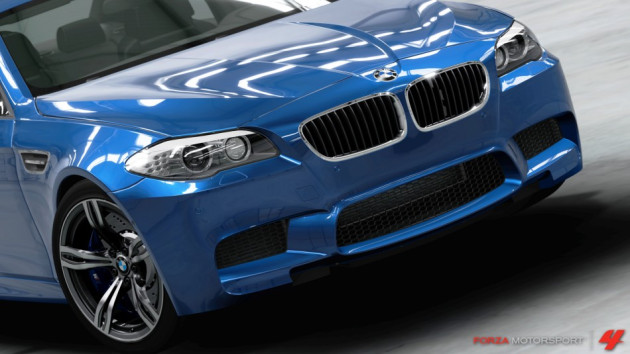 When racing with the in-car view, head tracking lets you glace across as your wingmirrors, and turn to get a better view of the next apex, all with subtle head movements. Head tracking works very well and once you learn to turn your head but keep your eyes on the screen it's definitely a positive addition to the gameplay - even for hard core simulation gamers. The sensitivity and speed of movement can be adjusted to suit.
Along with Kinect, Forza 4 brings the BBC Top Gear franchise to the game. Featuring the Dunsfold Test Track, as well as mini-games like car football and car bowling; the Top Gear tie-in also includes comments and opinions from Jeremy Clarkson. When looking at a car in AutoVista, a lengthy description and typically honest review of each car from Clarkson can be heard. Clarkson' voice also stars in a recent online rival trailer for Forza 4, and in the game's opening sequence.
With the ability to drive over 500 cars from 80 manufactures anywhere from the fearsome Nurburgring and Le Mans circuits, to traffic-filled mountain passes and of course the Top Gear Test Track, Forza 4 is gearing up to be the complete driving game, accessible to everyone from young children to battle-hardened racers.
Stay tuned for a full-length review in the coming days.