The Baloch Republican Party (BRP) has been organising protests in several European capitals to shed light on alleged human rights abuses in the Balochistan province, in western Pakistan.
IBTimes UK spoke with the president of the party's UK chapter, Mansoor Baluch, who alleged that dozens of Baloch people are abducted and executed by Pakistani security agencies and the Pakistani Army.
Human Rights Watch released several reports on abducted people in Balochistan. In 2011, the rights group documented rights abuses allegedly committed by the Pakistani government against people in Balochistan.
Balochistan history
Balochistan, a large area bordering with Afghanistan to the north and Iran and the Arabian Sea to the south, is inhabited mainly by Baloch, Pashtuns and Brahuis, and smaller communities and tribes such as Iranian Baloch, Hazaras, Marri and Bugti.
Balochistan was invaded by Britain in 1839. As a result of the invasion hundreds of people, along with the then Baloch ruler Mir Mehrab Khan, died.
Balochistan was then divided into three parts: Northern Balochistan and Western Balochistan were given to Persia and Afghanistan respectively, and Eastern Balochistan was under British rule until 1947.
After the British left, Balochistan was annexed to Pakistan. According to some, the then ruler Khan of Kalat was forced to sign accession documents despite a previous document recognising the independence of the Baloch people which had been signed by the British, Balochistan and the upcoming Pakistan administration.
Since then, Baloch separatist groups demanding independence have engaged in armed struggles with the Pakistani government.
During an armed struggle erupted in 2004, Balochistan's leader Nawab Akbar Bugti was killed by the Pakistani government, which accused him of being a warlord and using the Balochistan Liberation Army as a facade to run his own militia.
The NGO urged Pakistan to end "widespread disappearances of suspected militants and activists by the military, intelligence agencies, and the paramilitary Frontier Corps".
The report detailed 45 alleged cases of enforced disappearances – the majority of which occurred in 2009 and 2010 – and warned that some of the people who were abducted were also executed.
In a February 2015 report, HRW said that according to official statistics, since 2009 authorities have recovered the bodies of 4,557 suspected victims of enforced disappearance and subsequent extrajudicial execution, of which 266 remain unidentified.
"Those figures reflect the brutal toll of government agencies' deplorable practice of abducting people and then denying holding them, or not providing information about their fate or whereabouts," the report read.
"Such enforced disappearances – most often of men and boys – occur regularly throughout Pakistan, particularly in Balochistan and north-western Pakistan, but also in Punjab and Sindh provinces. Under international law, an enforced disappearance is a 'continuous' crime: it persists, and continues to inflict suffering on the victim's family, as long as the fate of the missing person is unknown or concealed."
In a separate interview with IBTimes UK, Ashraf Sherjan, president of the BRP Germany Chapter, warned that Balochs are haunted by what he calls a "Pakistani kill-and-dump-policy by intelligence agencies and armed forces."
"Since Balochistan was forcefully occupied by Pakistan, Baloch people have been living as guests of death. It has never been considered, even outside Pakistan, that Balochistan belongs to the Baloch people who are now haunted. Baloch leaders are being deliberately assassinated by the occupying state of Pakistan for demanding rights to their own land," said Sherjan.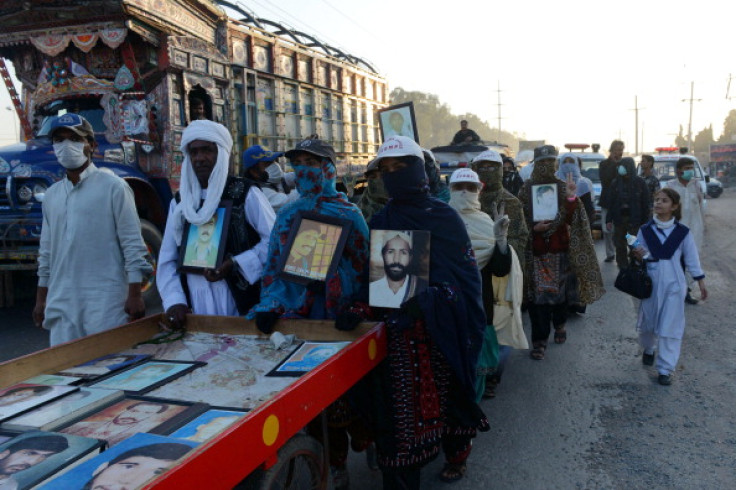 Pakistan's response
When contactyed by IBTimes UK, the London High Commission for Pakistan said: "The allegation that Pakistan Army 'routinely abducts and kills' Baloch people for demanding independence from Pakistan is completely false. Balochistan is an undisputed and integral part of Pakistan from its very inception.
"There are some political and economic grievances which have been raised by the Balochistan province over the years. The Federal government is cognizant of these and is making efforts to address this through a political process and economic measures," the commission continued and added that terrorist organisations are involved in activities in Balochistan.
"These terrorist organisations, with the help of some external elements, have time and again admitted to killing security personnel and also innocent people," the commission said. "The organisations that continue to use violence will have to be taken on by the State and the security agencies are the tool to do that end. So it is not the Army but the State of Pakistan which has taken on these terrorist organisations. In any case within Balochistan it is the Frontier Corps that is the lead agency and not the Army.
"The judiciary in Pakistan is independent. Cases have been lodged in the courts regarding missing people or those killed. Not a single case has been proven against the security agencies in any illegal disappearance or extra judicial killing.
"Another aspect of this manoeuvre is to internationalise this issue through media and other NGOs who don't have on ground knowledge but tend to believe these self exiled leaders of so called 'Baloch Struggle Movements' which are in effect foreign funded terrorist organisations."