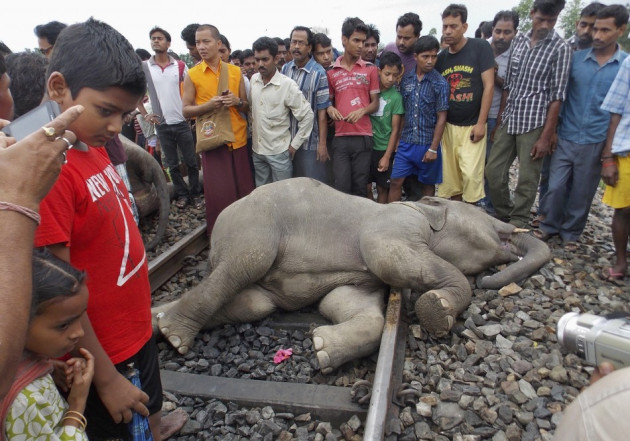 Three elephants (two female and an infant) were run over and killed by a speeding passenger train in eastern India. A fourth succumbed to its injuries. All four were part of a herd crossing the tracks when they were hit by the train.
The tragic incident took place near the Marghat forest region of the Jalpaiguri district of West Bengal. The train - the Alipurduar-New Delhi Mahananda Link Express - was travelling from Siliguri to the far eastern state of Assam.
The railway line was shut down for several hours to allow for the removal of the carcasses and to deal with protests from local villagers, who demanded assurances that trains on this route would reduce their speed.
Forest minister Hiten Barman told AFP the elephants' death was because of the negligence of the driver and that "train accidents of this sort have of late become a concern in the northern districts of West Bengal". Barman also claimed 42 elephants had been killed by speeding trains in West Bengal since 2004.
An Indian Railways spokesperson blamed the Forest Department for the accident. He claimed the incident took place outside areas elephants were allowed in and that there was no warning from the Forest Department regarding the herd's movement.
The Asian/Indian Elephant (Elephas maximus) is listed as Endangered by the International Union for Conservation of Nature (IUCN) and there are believed to be between 26,390 and 30,770 animals left in the wild.
Orissa Elephant Deaths
West Bengal is not the only Indian state to face elephant deaths due to speeding trains. In December, five elephants were killed in Odisha (formerly known as Orissa) by a passenger train.
Wildlife activists have repeatedly stressed the need to control train speeds through forest areas and have also dismissed the idea that "elephant corridors" or demarcated areas could have any effect, if highways and rail tracks cross these stretches of land.
"Having elephant corridors means nothing if the same have highways, roads and railway tracks running through them. In Dhenkanal [in Odisha], a good number of elephants remain trapped as a canal cut through their corridor," Ranjit Patnaik, a wildlife expert, explained.
According to an Al Jazeera report from earlier this year, there are 88 elephant corridors in India. However, 40 have National Highways, 21 have railway tracks and 18 have both.