Four freed Yemeni inmates from the Guantanamo Bay military prison have reached Saudi Arabia, the US officials confirmed on Thursday, 5 January. The transfer is reportedly President Barack Obama's final push to cut down the inmate population inside the prison.
The outgoing president aims to transfer at least 19 inmates to four countries including Italy, Oman and the United Arab Emirates before he leaves office on 20 January.
The Pentagon said that there are 55 inmates in the military detention centre in Cuba.
"The United States is grateful to the government of the Kingdom of Saudi Arabia for its humanitarian gesture and willingness to support ongoing US efforts to close the Guantanamo Bay detention facility," the Pentagon said, adding that the deal have been reached after years of negotiations between the two nations.
An AFP journalist said that he witnessed the emotional arrival of the four prisoners, who landed at a terminal usually reserved for royals at the Riyadh international airport on Thursday.
According to the reporter, inmates and family members could not control their tears as they saw each other for the first time in years.
Salim Ahmed bin Kanad, one of the released inmates, told reporters he felt "born again" after seeing his relatives.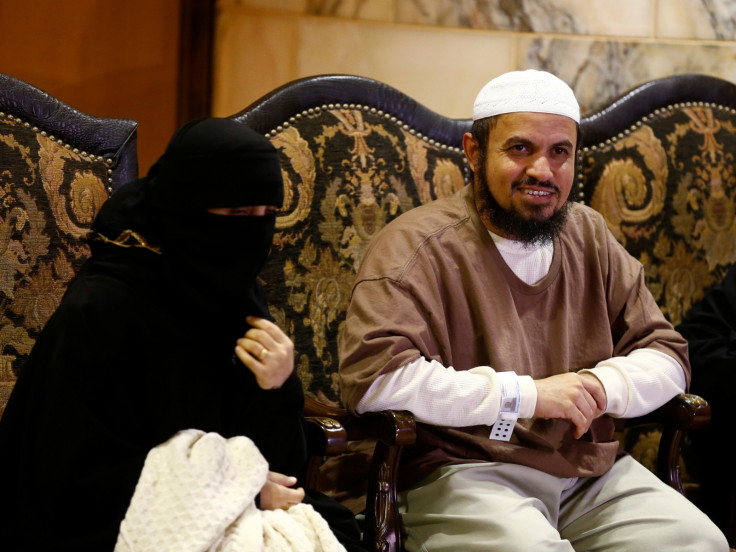 While, another prisoner, Mohammed Bawazir, said he hoped to move on and forget the past.
"I want to give back to my family the 15 years I lost," he added.
The other two ex-prisoners of Guantanamo were Mohammed Rajab Abu Ghanim and Abdullah Yahya al-Shalabi.
The Saudi interior ministry said in a statement that arrangements have been made for rehabilitation and de-radicalisation programme for the four detainees. The ministry also said that they can live in the kingdom and have a normal life as the ongoing war in Yemen would not allow them to return back to their home country.
The release of the detainees came amid objections by President-elect Donald Trump, who on Tuesday called for a freeze and pledged to keep the facility open and "load it up with some bad dudes".
He tweeted, saying "There should be no further releases from Gitmo. These are extremely dangerous people and should not be allowed back onto the battlefield."
However, the White House said the opposition from Trump are unfounded and added that the transfers would continue until Trump assumes office. "We expect that there will be more transfers. We do not comment on the progress of individual detainee transfers until they are completed."