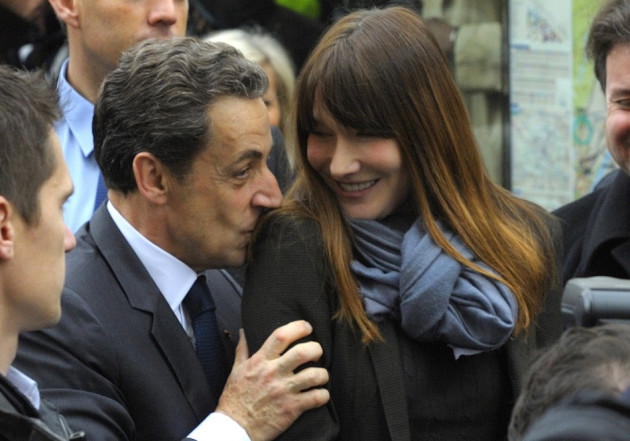 Carla Bruni-Sarkozy once interrupted a cabinet meeting between her husband, former French president Nicolas Sarkozy, and Prime Minister Francois Fillon, by bursting in the room scantily dressed, a newspaper has claimed.
The brief appearance of the former top model turned-singer remained well impressed in Fillon's memory: the conservative politician often tells the spicy anecdote to friends and acquaintances, French weekly Le Canard Enchaine reported.
As the story goes, one Wednesday morning Fillon and Sarkozy were discussing France's public debt at the presidential residence in Paris, the Elysee Palace, ahead of the weekly cabinet meeting.
"Suddenly Carla breaks into the room. She is scantily dressed," Fillon was quoted as saying. "With her Italian accent she says: 'Good morning, my love!".
"Sarkozy swoons: 'My wife is beautiful, isn't she?'"
After Sarkozy's wife made the appearance, Fillon reportedly found it difficult to focus on the country's economy figures and the meeting was put to an end.
Le Canard Enchaine is a mixed satirical and investigative weekly, which often unveils Paris political elite's dirty laundry. Its report comes as Sarkozy is preparing a political comeback.
Earlier this week, an opinion poll by Le Figaro magazine showed that 46 % of French voters would favour Sarkozy as head of state, compared to 27% who prefer the man who beat him at the last presidential elections, Francois Hollande.
Sarkozy, who declared he would leave politics for good after losing the presidency in 2012, has since hinted he is to eat his words.
The move has not gone down well with Fillon, who planned to take the reins of France's centre-right after Sarkozy's retirement, and to be the UMP party's sole candidate for the next presidential elections in 2017.
"There are no personal issues or rivalries between Sarkozy and me," Fillon told RTL earlier this month. "I was his loyal Prime Minister for five years."
"From that experience I've acquired the desire to propose to the French people another way of doing things, a different political way which is that of a real national recovery," he said.
READ:
Carla Bruni's Naked Photos Used to Break into G20 Diplomats' Computers