French authorities paid tribute to a school teacher who was stabbed to death in front of her class by the mother of one of her students, as more details of the killing emerged.
Fabienne Terral-Calmès, a 34-year-old married mother-of-two, was attacked in her classroom in the southern town of Albi, just after morning lessons had started.
"I'd like to bow in memory of Fabienne Terral-Calmès," said education minister Benoit Hamon. "She was 34; she was a teacher and the mother of two little children, Romane and Adele, who have lost their mom. And the national education system has lost an astounding educator."
The elementary school teacher died of the injuries reported a couple of hours after she was stabbed at the abdomen with a kitchen knife by the 47-year-old mother of one of her students.
The attacker, who has not been named, was arrested by police and is now in custody.
Hamon said the woman suffers from "serious psychiatric issues".
RTL radio reported the attacker is also a mother-of-two and is of Spanish origins.
She was already known to police, as, earlier this year, she was placed under investigation for child neglect and failing to report a child's disappearance, in order to prevent or delay search efforts.
Witnesses told BFMTV that the killer was heard shouting "I'm not a thief!" seconds before the aggression.
Others said that, some time ago, the teacher had confronted her about her son being often late for school.
However the chairwoman of the local Parent Teacher Association maintained that the killing had nothing to do with previous incidents at the school, citing the attacker's mental issues as sole probable reason.
"There were no particular issues between the teacher and the woman," said Sandrine Soliman.
The Edouard-Herriot elementary school hosts some 284 children aged between three and 11
President Francois Hollande expressed his sympathy for the family of the teacher and said he was in "dismay" over what he described as an "abominable tragedy".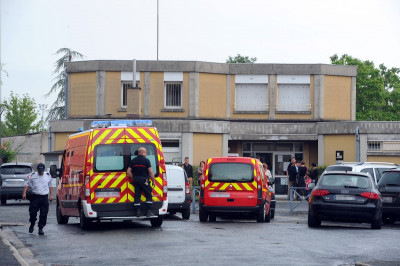 Prime Minister Manuel Valls called for a swift investigation to shed light on the circumstances of the murder.