Tensions over the new controversial French labour laws do not show any signs of dying down as days of a nation-wide oil strike could lead to transport workers refusing to work "indefinitely" in Paris. On Monday (23 May), the General Confederation of Labour (CGT) reportedly urged the metro, bus and Regional Express Network (RER) workers in Paris to join their protest, putting the fate of the upcoming 2016 Uefa European Championship in limbo.
The CGT union urged rail workers from the French capital's state-owned transport operator Régie Autonome des Transports Parisiens (RATP) to launch an "indefinite strike" from Thursday, 2 June, to protest against new labour laws and press for the long-standing wage revision. The country is already facing a severe fuel shortage in many cities after the union blocked oil refineriesfrom delivering fuel to petrol stations.
Local media reports suggest that around one fifth of the petrol stations in the country went dry by Tuesday (24 May). Transport minister Alain Vidalies announced that by Monday night, around 2400 petrol stations out of the 12,000 in the country had run out of petrol or had very low reserves. The government has asked citizens not to panic, but people are queuing up at fuel stations to avoid ending up with no fuel.
To press for their demands, the CGT union wants transport workers in Paris to also join in the protests. The union said in a statement that they would be "blocking everything".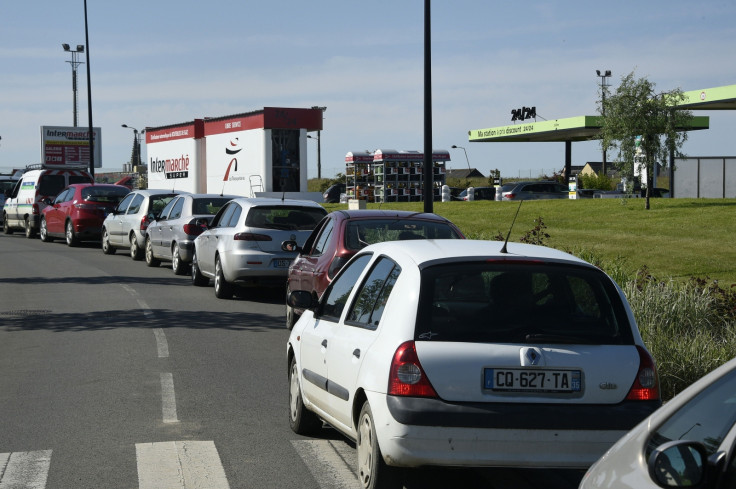 "For two consecutive years, the wages haven't gone up even though the RATP's results have been at historical highs," Jacques Eliez, secretary general of the CGT union was quoted as saying by The Local.
Rail workers across France already caused a furore after announcing plans of starting 48-hour rolling strikes every Wednesdays and Thursdays. Last week, they launched the first such strike. Previously, rail workers have launched one-day strikes since the start of March to press for their demands of better wages and working conditions.
If the transport workers join the strikes, the double whammy could negatively impact the opening game of the Euro 2016, scheduled on 10 June in Paris. However, the UNSA union, which is the second biggest among Paris transport workers, called off its threat of holding strikes during Euro 2016.
RATP runs most of the public transport in Paris, including the metro, trams, buses and certain RER A and B commuter rail services.