Actress Julie Gayet's first appearance on Thursday (18 June) at a ceremony that President François Hollande was also attending has created a stir in France, a country that has been without a first lady since January 2014.
Hollande, 60, had kept his love life private following his very public break-up with Valerie Trierweiler, 50, amid reports that he was having an affair with Gayet, 43. Closer magazine published pictures purportedly showing then then 59-year-old president and the 41-year-old actress arriving separately at the same flat in Paris.
Hollande, who has never denied the liaison, broke up with his partner Valerie Trierweiler within days of the publication in January 2014.
But Gayet finally came out of the shadows by attending a ceremony with Hollande commemorating the 75th anniversary of Charles de Gaulle's June 1940 London call to the French to resist German occupation on Thursday (18 June).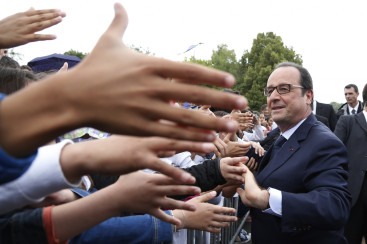 It is the first time that Gayet has appeared at an event with the president − who has never denied them being a couple, but never made their relationship official either.
Although the actress did not appear by Hollande's side, French commentators say Gayet is gradually coming "into the light" as France's first lady.
"The fact remains that, for several months already, the presence of Julie Gayet in the presidential sphere has been increasingly felt, without ever being denied nor confirmed," said Le Parisien.
For Le Figaro, "Julie Gayet's presence is actually part of a political communication."
If François Hollande has consistently stated his "right to respect for private life", recent events lead many to believe that he is gradually considering including the actress as part of the political landscape, and his life.
'Julie Gayet loves the spotlight'
According to Le Monde, which talks of "painting of a couple brushed bit by bit," a source within the government said: "There is a desire to try and find a place for Julie Gayet and distill [the news] to the French quietly, without holding press conferences."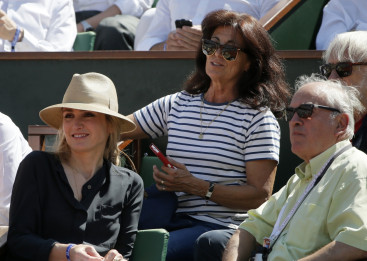 Gayet denied she attended the event to appear with the president, adding that she had been invited to accompany her grandfather, Alain Gayet, a 92-year-old French Resistance hero.
Weekly news magazine Paris Match, meanwhile, wishes to remind its audience that Gayet has been very present in the media recently: at the Cannes Film Festival, at French Open of Roland Garros or in Saint-Emilion not far from Bordeaux, where Hollande was visiting the Vinexpo wine salon.
The weekly points out that Gayet "loves the (spot)light, and the revelations about her private life haven't moved her away from it."
L'Obs, however, alleges that president's entourage was not aware of Gayet's arrival at the Mont Valerien memorial, west of Paris.
"The driver dropped the Gayet family just in front of the TV cameras and photographers," a source told the magazine. "There is no formalisation strategy."