France: National Front Ousts Jean-Marie Le Pen from Website over 'anti-Semitic' Oven Jibe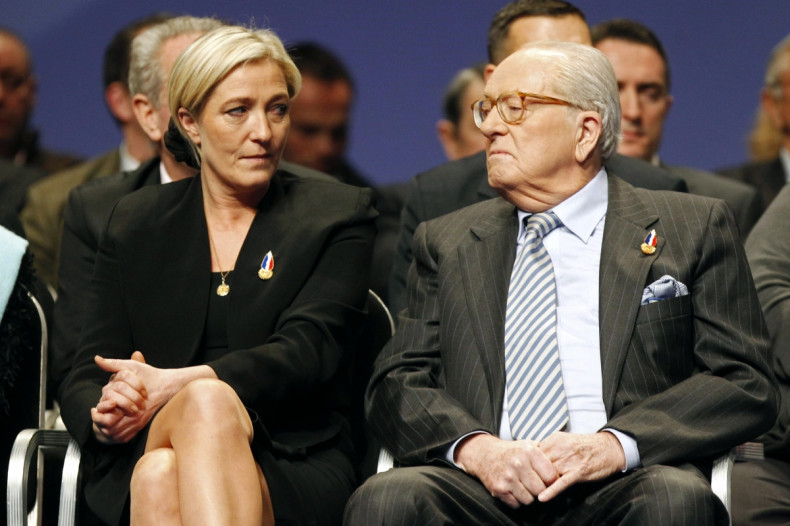 Following his latest 'anti-Semitic' slur, Jean-Marie Le Pen is being pushed further to the margins of the party he founded, after France's far-right National Front (FN) ousted the old leader's blog from its official website.
FN officials told Le Monde newspaper that the online video column named Jean-Marie Le Pen's Logbook, and hosted on weekly basis by 85-year-old party chairman, is to be interrupted.
The move comes after Le Pen used the platform to lambast French Jewish singer Patrick Bruel, a vocal critic of the far-right party, saying: "We'll do an oven load next time."
The comment was widely interpreted as a reference to crematoria used by the Nazis in concentration camps during the Holocaust - although Le Pen denied the claims.
The video, the Logbook's 366th upload, was later taken down but was broadcasted by French national TV and sparked a family feud between Le Pen and his daughter, Marine, who took the reins of FN from her father in 2011.
Marine has been working hard to clean up FN's image, which was tainted by numerous allegations of racism and anti-Semitism, and successfully ferried the party from a radical right-wing niche to a large populist anti-immigration and anti-establishment platform.
FN came first in France in the latest European elections winning 25% of the vote.
Le Pen's oven jibe was swiftly seized by FN's critics as evidence that Marine's efforts had not changed the party's inner nature.
"Le Pen has unmasked the true face of the far-right of Europe," said Moshe Kantor, president of the European Jewish Congress (EJC).
"While some have tried to whitewash and mainstream these parties, Le Pen's comments demonstrate that they still stand on foundations of hatred, anti-Semitism and xenophobia."
Some FN representatives dissociated from Le Pen's comment and Marine said her father had made a "political mistake".
In turn Le Pen attacked his daughter saying she had aligned FN to a mainstream party he much dislikes.
"They want to resemble to the other political parties," he said. "I am a free man, I'm not forced to march in the paths traced by the single thought."
Aired every Friday, Jean-Marie Le Pen's Logbook featured his usually biting analysis of the political week.
Le Pen has received regular fines for inciting racial hatred during his decades-long political career.