The French economy is in trouble. It has been dubbed the "sick man of Europe" by some commentators as it struggles to recover from a malady that has stricken eurozone member states since the sovereign debt crisis infected the currency bloc in 2010.
But the problems go deeper than just a financial crisis. Its economy lacks competitiveness and has structural issues to contend with, issues that existed before the Greek meltdown sparked a eurozone-wide inferno in 2010 – and that's what's denting its recovery.
"France doesn't suffer from the same balances as the countries on the periphery in terms of debt. Even the fiscal position is not awful certainly relative to other countries in the eurozone," says James Howat, European economist at Capital Economics.
"But France hasn't really tackled its structural problems in an ambitious way. It has done stuff around the edges. It's still got a multi-year fiscal consolidation ahead of it that's going to eat into domestic demand.
"I think you're going to see a very sluggish recovery there. France is still quite far from falling into a crisis in the way that Spain or Italy did, but it's certainly going to be a very slow recovery."
France may have sunk back into recession at the end of 2013 after its economy contracted by 0.1% in the third quarter. The same quarter saw the French unemployment rate jump to 10.9%, a 16 year high.
An all-sector business confidence gauge, compiled by the national statistics agency Insee, weakened in the fourth quarter. The measure dropped to 94 points, some way below the long-term average of 100 because services and retail firms are bearish about the business climate.
Household spending bounced by 1.4% in November, but not because French consumers have been hitting the shops. This rise was driven mainly by higher energy bills because of below-average temperatures, leaving households even more out of pocket than usual.
Worst of all was December's data from research firm Markit, which surveys purchasing managers for a monthly index (PMI). It showed a sharpened contraction in private service sector activity in what was the sharpest fall since June. This concerned many given the services sector accounts for around 80% of French GDP.
"Persistently weak demand continues to impact on the sector's performance, with firms reporting continued declines in both new business and backlogs of work," said Markit's Jack Kennedy, author of the report.
While Germany, Italy and even troubled Spain look to be recuperating, albeit slowly, the eurozone's second largest economy is still stuck in bed with a cold flannel on its head and a thermometer in its mouth.
"It's dangerous reading too much into the PMI data because over the last few months it's consistently underestimated economic activity in France," cautioned Howat.
"There certainly are problems, but the PMI data itself paint a particularly darning picture. If you look at other indicators they suggest it is must less serious than the PMI data."
'Sluggish recovery'
What would put France firmly on la voie de la reprise? Or la voie de la prospérité, as a French George Osborne might put it.
"The French government introduced a bit more flexibility, but it's still a fairly rigid labour market in comparison to other countries in the OECD," said Howat.
Labour laws in France put a fairly tight noose around employers' necks. While this bolsters the employed, a rigid labour market hurts those looking for work most of all, especially in a downturn.
It is hard for employers to lay off staff on permanent contracts. This is why firms try to create an artificially flexible labour market by hiring so many people on fixed-term contracts. According to the French Council of Economic Analysis, more than 90% of hirings are on fixed-term contracts.
President Francoise Hollande, a socialist, has clashed with the country's unions over his attempts to reform the labour market – and its 3,200 page book of employment rules.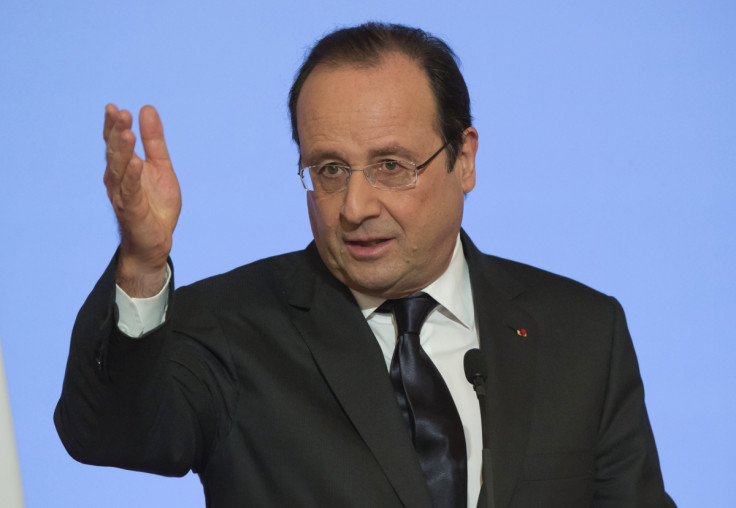 He managed to win one deal, however, that gives greater flexibility for employers to cut working hours and salaries when the economy's gone sour. But there Hollande still has much unenviable work to do in convincing union bosses to row back on years of hard-won workers' rights.
Cuts
Taxation is another big issue. Hollande has just been given the controversial go ahead by France's constitutional council to make employers pay an effective 75% top tax rate on any staff salaries that go over €1m annually.
In December, French farmers set up roadblocks in Paris to protest against Hollande's tax increases on the agricultural sector.
Hollande's answer to austerity, which favours tax rises over spending cuts, has hit firms hard.
"There's a big tax wedge between what employers pay for workers and the wages workers get from employers," Howat says.
"And that is one of the serious competitiveness problems in France. Over time they're going to have to start bringing down taxes, which is going to mean cutting spending. These are things the government has suggested it will do, but quite far into the future."
Those spending cuts would have to come from things like the welfare budget, which is equivalent to 30% of French GDP. These cuts will never be popular and the challenge to trim social spending is intensified because of two elections in 2014, local and European polls.
"It's looking like a good chance that the government will get quite a hammering. So you've already seen some reform slippage over the last few months," says Howat.
"Particular spending cuts are going to be difficult. At the moment a lot of the tax increases have come at the expense of higher income individuals or firms, which obviously has much less weight in the democratic process than the vast majority of people who benefit from the social benefits that need to be cut if you want to reduce taxes."
These are sentiments shared by the Standard & Poor's credit rating agency, which downgraded French sovereign debt again in November 2013.
"We believe the French government's reforms to taxation, as well as to product, services, and labour markets, will not substantially raise France's medium-term growth prospects," said S&P as it cut France by a notch to AA.
"Furthermore, we believe lower economic growth is constraining the government's ability to consolidate public finances."