France's FN war is a 'vulgar communication trap' say President Hollande's Socialists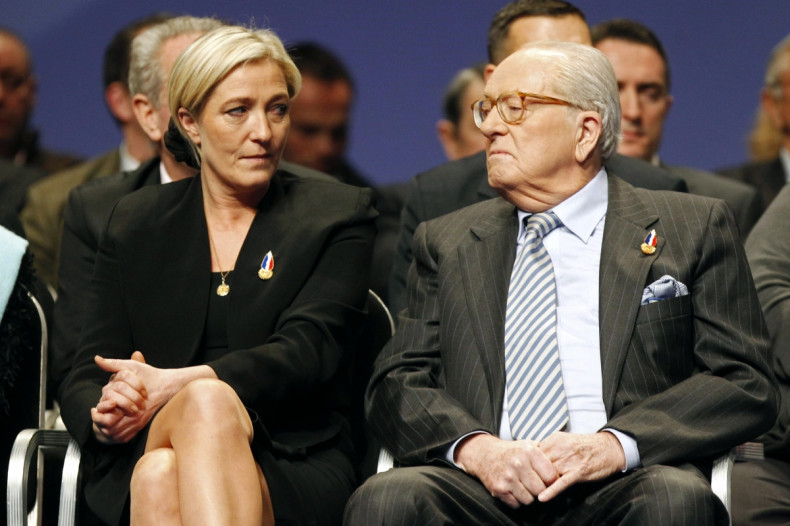 President Francois Hollande's Parti socialiste (PS) has slammed the ongoing family feud within France's far-right Front National (FN) party as a "vulgar communication trap".
Juliette Méadel, spokesperson for the PS, on Friday 10 April denounced the very public war between the FN's founder Jean-Marie Le Pen and his daughter, accusing them of "enormous hypocrisy".
This comes days after the party has been plunged into an all-out war between its President, Marine Le Pen, and her ageing father, Jean-Marie Le Pen, after he repeated claims that Nazi gas chambers were a "detail in history" and defended Marshal Pétain, the leader of France's Nazi collaborationist Vichy regime.
The party was thrown into chaos after Marine Le Pen said she would actively oppose her father's candidacy for the Provence-Alpes-Cote d'Azur region in the December elections.
In a dramatic public savaging of her father, Marine Le Pen described him as being in "a total spiral of strategy somewhere between scorched earth and political suicide".
In retaliation to threats made by his daughter to expel him from the party, Jean-Marie Le Pen confirmed his candidacy in upcoming regional elections.
An "enormous hypocrisy"
Speaking to Sud Radio about the crisis that is tearing the FN and the Le Pen family, Méadel advised listeners not to "fall into the vulgar trap of this communication strategy that benefits Marine Le Pen".
"The National Front is a party that acquires (...) communication advisers, who are obviously very skilled, and do not skimp on what we call storytelling - which is to say that they tell a little story to get people where they want to get them, but without telling them the truth," she insisted.
For Méadel, this crisis demonstrates the "gigantic hypocrisy of Marine Le Pen".
"She pretended to discover that her father holds anti-Semitic and racist views, even though he was convicted several times by the courts," she recalled.
The de-demonisation is only an "appearance" in the eyes of the Socialist spokeswoman.
She added: "The reality of the FN, is that this is a party that is historically, ontologically and substantially, a party that is based on the rejection of the other (...), which does not cut back on using racist terms and to implement in their local approaches, policies that are racist."
A spokerperson for the FN told the IBTimes UK Méadel's claims were defamatory.
It was revealed on Friday 10 April that Marine Le Pen is facing a potential investigation by the French authorities over "illegal campaign financing".
Judges Renaud Van Ruymbeke and Aude Buresi are currently investigating one of Le Pen's officials, over claims Marine Le Pen may have illegally employed two of her advisers with a "fictitious fixed term employment contract" during her campaign for the presidential and legislative campaigns in 2012.