Bobby Tambling believes Chelsea midfielder Frank Lampard will be worthy of the club's all-time goal scoring record should the 34 year old surpass his tally of 202 this weekend.
The Blues face Southampton in the Premier League and Manchester United in the FA Cup quarter final replay over the Easter period, giving Lampard two opportunities to break the record held by Tambling, which has stood for over 40 years.
Lampard requires just three goals to leap to the summit and further immortalise himself in Chelsea history, and Tambling believes the record will cement his status as the club's greatest ever player.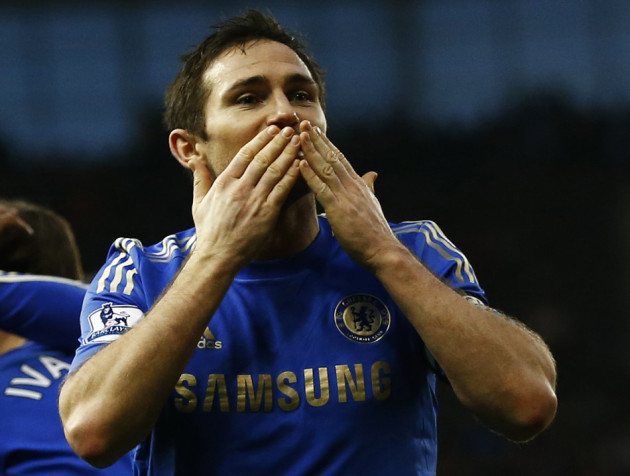 "I've been very pleased to be the record holder," he told The Daily Telegraph.
"It's lovely but, in the end, you know that someone else will come along. That's how it should be and who could be better than Frank Lampard? You couldn't meet a nicer guy and he's the best player Chelsea has probably ever produced.
"If you take what Frank has done personally and then add in what Chelsea have done as a team in the last 10 years, he must surely go down not just as one of the greats but probably the greatest player Chelsea has had," he added.
"This has been the greatest Chelsea team ever. He thinks like a striker, performs like a striker.
"I think that he will certainly get to the record now. At different times, people thought, 'this guy could do it'. We all thought Kerry Dixon was going to do it but I believed from four or five years ago that Frank would be the one."
During Roman Abramovich's spell as owner since taking over in 2003 Chelsea are the most successful English club, having claimed 10 trophies.
And one thing constant with Chelsea's success is Lampard's goalscoring form, having hit double figures in every one of those campaigns since the Russian's arrival.
However, Chelsea are set to release Lampard in the summer with the England international's contract due to expire and no sufficient deal expected to be forthcoming; an inexplicable situation according to Tambling.
"I find it difficult to understand," he said.
"If he wasn't performing like he is, you might understand it a little bit and say he has run his course. But he is still performing well and still scoring.
"It is not just one or two managers he has done it for, he has done it for every manager. He is a tremendous pro and great for the game so I find it difficult that something can't be worked out but I'm not the club.
"I'm an outsider to all this so can only know the situation from what I read in the press. I think if he doesn't reappear next year, there will be a lot of disappointed supporters."